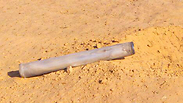 A rocket fired at southern Israel landed on Friday afternoon in an open area at the Eshkol Regional Council, close to the Israeli-Egyptian border. No one was hurt and no damage was caused.
Islamic State's Egypt affiliate, Sinai Province, said in a statement posted on Twitter by supporters that it had launched three Grad rockets towards "occupied Palestine".
The Islamic State-affiliated Salafist organization in Gaza, the Sheikh Omar Hadid Brigade, initially claimed responsibility over the firing of the rocket, but later said the announcement was a result of miscommunication.
It was possible the launch was linked to the fighting in Sinai, a military source told Reuters.
Rocket falls near Israel-Sinai border (צילום: אילן איזקסון)
Egyptian military and security officials in Sinai denied any rockets were fired from the restive peninsula.
The rocket fire was preceeded with a code red siren shortly before 4:30 pm in Avshalom, Bnei Netsarim, Dekel, Yevul, Yated, Neve, Pri Gan, Sdei Avraham, Shlomit and Talmei Yosef - all communities near the Israel-Egypt border.
The rocket fire comes after two days of violent fighting between the Egyptian army and Islamic State-linked jihadists in Sinai.
After a combined assault launched by the Islamic State early Wednesday morning in Sinai, the IDF increased its presence on the Egyptian border. As part of the new raised level of alert, Highway 12 in southern Israel was closed to civilians since 5 am Friday morning.
The IDF said the "highway closing was done temporarily in line with the situation assessments, out of security considerations and the obligation to protect the citizens of Israel."
On Wednesday, jihadist terrorists affiliated with the Islamic State attacked at least 10 posts of the Egyptian army in Sinai and other targets in the peninsula. The jihadists also launched a series of terrorist bombings, using advanced weapons with which they reportedly killed some 70 Egyptian security forces.
Egypt called for aerial assistance, and Cairo claims its fighter jets killed at least 100 terrorists. Meanwhile, Cairo claimed only 17 of its soldiers were killed in the terror attacks.