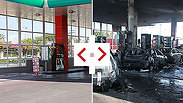 Photo: Roi Idan, MDA Spokesperson
Photo: Roi Idan, MDA Spokesperson
Amidst heavy rocket fire from Hamas in Gaza and on-going retaliatory airstrikes by the IAF, Israel declared the beginning of Operation Protective Edge on July 8, 2014, nearly one year ago.

The operation was intended to be quick and painful to Hamas' military capabilities, namely their tunnel infrastructure and rocket stockpiles, but quickly became a war that dragged on for 50 unpredictable days and resulted in the deaths of 67 Israeli soldiers, five Israeli civilians and more than 2,000 Palestinians.

Now, one year later, Ynet has returned to the sites where destruction and fear brought memories of devastation back into the forefront of the nation's psyche. However, while war has a lasting effect on the mind, repairs and reconstruction have physically returned Israel to normal. Move the division marker left and right on each of the photos to see the ruins of war vs. the reality of peace.
7/11/14
A grad rocket exploded in a gas station in Ashdod, striking a fuel tank and causing massive destruction to the area on the fourth day of Operation Protective Edge. One man was seriously wounded in the strike and five others were lightly wounded. The first 500 rockets fired by Hamas didn't cause any damage or serious injuries partly because of the success of Israel's Iron Dome anti-missile battery. (Photo: Roi Idan, MDA Spokesperson)
7/12/14
This house in Be'er Sheva suffered a direct hit from rocket fire, wounding an 86-year-old woman. Be'er Sheva is a prime target for Hamas militants due to its status as a significant city with a large population and its proximity to the Gaza Strip. (Photo: Roi Idan, Herzl Yosef)
7/14/14
Tourists and Israeli beach-goers in Tel Aviv also experienced daily rocket fire for the first time in decades during Protective Edge. Beach-side hotels and businesses ushered the public into shelters within their establishments. (Photo: Yaron Brener, Shaken Orbach)
7/23/14
Throughout southern Israel, those traveling in vehicles were instructed to take cover on the ground during air raid sirens, as vehicles could potentially become death traps if hit by a rocket. (Photo: Roi Idan, Avi Rokach)
8/21/14
One man was moderately wounded by shrapnel when a rocket struck this home in Kibbutz Nir Oz in the Eshkol Regional Council. Nine soldiers and four-year-old Daniel Tregerman were killed by mortars fired on Eshkol and Sha'ar HaNegev. (Photo: Roi Idan, Moti Kimchi)
8/26/14
Children were also under threat from the indiscriminate rocket fire as seen by the hole in a day care in Ashdod. On the same day, the last of the operation, rockets were fired at central Israel, Ashkelon and Ashdod. (Photo: Roi Idan, Avi Rokach)
While peace has mostly been maintained over the last year, rocket fire from Gaza and possibly Sinai has returned to southern Israel of the last few weeks, though the perpetrators appear to be ISIS militants opposed to Hamas' rule in the enclave.