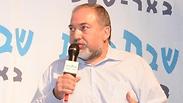 Photo: Herzl Yosef
Photo: Herzl Yosef
The fate of Prime Minister Benjamin Netanyahu's government is bleak in terms of survival according to Israeli Beiteinu Chairman Avigdor Lieberman who said Saturday that the current coalition won't make it past 2015.

According to Lieberman, who made his comments at a "Shabatarbut" event in Be'er Sheva, Israel's deterrence factor was greatly harmed in last year's Operation Protective Edge and has yet to be restored.

"Netanyahu's government won't finish 2015," said Lieberman. "It isn't possible to pass a complicated budget with a coalition of 61 Knesset members; it's not realistic. What we've seen on the issue of gas, we'll probably see in a more dramatic fashion in budget discussions," he said.

A current deal to break up the duopoly that currently controls Israel's off-shore natural gas fields is in limbo due to Netanyahu's inability to wrangle together a majority in a Knesset vote that would give his government cabinet the power to approve a deal.

But Lieberman also rejected the idea of joining the coalition himself, saying, "Netanyahu doesn't want me in the government, but he wants my votes; that's a fundamental difference. There are differences between us in how we view the world. I can't accept the prime minister's approach that we won't be able to build in Jerusalem and also the Jewish nationhood bill has been put off."

Lieberman also denounced Netanyahu's security and foreign policies which he said have resulted in a weaker Israel with no ability to deter its enemies. "A year has passed since Protective Edge and we've seen three grad missiles land in southern Israel. Israeli deterrence has been harmed since Protective Edge and no one takes us seriously - not in Gaza, not in Sinai, and not in talks in Vienna (with Iran).

"They disbanded the Foreign Ministry, lynched it, a pogrom. There's no owner or strategy in any field; we aren't taking the initiative and we aren't leading, only responding."

A former foreign minister himself, Lieberman accused Netanyahu of paying Hamas for temporary peace in the south, saying, "They're producing missiles and digging tunnels 24 hours, seven days a week and we let them because that supposedly gives us quite. That's how the government is buying silence from Hamas."

In hindsight, Lieberman also said that Israel lacked defined objectives during Protective Edge. "I told the prime minister, 'If you don't intend to finish and topple Hamas rule, don't even start. We can't stop in the middle. If it's impossible to complete that mission than it's better not to even start."