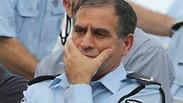 Efriam Bracha
Photo: Motti Kimchi
Israel's number one detective Ephraim Bracha, who was suspect in multiple bribery scandals, shot himself in his car near his home in Modi'in early Sunday morning.

Police officials who arrived at Assistant Commissioner Bracha's house on Sunday morning, including the acting Police Commissioner, Major General Benzi Sao, were having a hard time dealing with what had happened.

Bracha was a respected detective and one of the most skilled officers in the police force. He was considered one of the best and brightest investigators in the police department, and over the years he was also considered one of the most threatened officers.

He had risen to fame recently after he led several sensitive investigations of national importance.

Bracha left his home early on Sunday morning, which raised the suspicion of his family members. They contacted his closest friend, Brig.-Gen. Avi Neuman, asking him to help locating Bracha. Neumann spoke with the Modi'in police station, which sent out a police squad to search for him. Police used his phone to find him dead in his vehicle on Emek Haelah Street in Modi'in.

Bracha, married with four children, was 55 years old when he died. Neumann left the Bracha family home on Sunday with tears in his eyes after having spending several hours with the family and said: "It is very difficult day, we have lost a friend."

An official statement issued by the Israel Police said that "the Israel Police Force announces with great sorrow the death of Brigadier General Ephraim Bracha. Bracha, a resident of Modi'in, served in various positions since 1983. In his last position he served as head of the Israel Anti Fraud Unit. The Israel Police Force bows its head and extends it condolences to the family."

Two months ago, the Tel Aviv District Court sentenced Rabbi Yoshiyahu to a year in prison. Pinto was convicted of bribing Brigadier General Bracha, as part of a plea bargain.

According to the plea agreement, Pinto admitted to bribing Bracha with more than NIS 400,000, offering a bribe of a similar amount, and to obstruction of justice. Some of Pinto's devotees recently created a Facebook page entitled "justice you shall pursue" on which they sharply attacked Bracha.

Last year, a petition against Bracha's appointment to head the Anti Fraud Unit was rejected. Three judges, led by Supreme Court President Asher Grunis, ruled that Bracha was qualified for the position due to his achievements in the police force. Bracha led the fraud unit during the investigations of Minister Silvan Shalom and former MK Benjamin Ben-Eliezer.