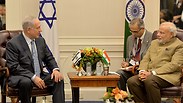 בנימין נתניהו הודו נרנדרה מודי או"ם ניו יורק
Photo: GPO
India's decision to abstain from voting during the UN Human Rights Council vote on adopting the councils report on Operation Protective edge, symbolizes an unprecedented diplomatic victory for Israel, according to high ranking officials in the Foreign Ministry. India chose to abstain with only four other countries: Kenya, Ethiopia, Paraguay, and Macedonia. Only the US voted against the motion.

The move represents a major change in India's stance. It was the first time in decades that India abstained from a decision against Israel in an international forum. In recent years India has been a key player in the Non-Aligned Movement - a body of states that automatically would vote for the Palestinians and against Israel in international forums.




So what happened to the Indians? The answer is pretty simple; Prime Minister Narendra Modi, who assumed office in April 2014, has led a strengthening of ties with Israel. Diplomatic officials in Israel say that "India's change in stance, which came to fruition in the UN vote, mirrors a warming of relations between the prime ministers and represents a change in position on counter-terrorism, within the rising super power."

India's decision was preceded by a phone call between Prime Minister Benjamin Netanyahu and Prime Minister Modi. While India abstained, 41 states voted against Israel, and adopted the inquiries' report, including traditional allies of Israel like Germany, Britain, France, Holland, Korea, and Japan.
Opposition attacks in India
The Indian opposition was quick to attack the government over the surprising change in stance. K.C. Tyagi, the leader of the center left Janata Dal (United) party, condemned the government on Saturday, and said it would negatively affect India's relations with Arab countries. "Prime Minister Modi is going to visit Israel, and he did not want to anger Israel's Prime Minister. This is the first time that India supports Israel in 60 years, and because of this relations with Arab countries may be affected. I condemn this move," Tyagi said.

The Indians themselves where frightened by the warm reactions in Israel, and the critiques from the opposition, and where quick to put things into proportion. The Indian Foreign Ministry released a statement saying there had been no change to India's traditional stance of supporting the Palestinians.

The Prime Minister's office in Delhi clarified that the reason behind the abstention was India's opposition to the mention of the International Criminal Court – which India doesn't recognize, and is not a member of. The UN commission of inquiry called on the sides to cooperate with the ICC inquiry which was checking the possibility of war crimes being conducted in the West Bank.

All things aside, there is no doubt that their decision comes at the height of what seems to be a romance between Jerusalem and Delhi. In the framework of warming relations; Prime Minister Modi is set to visit Israel towards the end of the year. This will be the first visit of its type by an Indian Prime Minister in Israel since the establishment of diplomatic relations in 1992. In February of this year, Minister of Defense Moshe Ya'alon visited India – a visit which was also labeled historic, as an Israeli Defense Minister has never visited India. Former Defense Minister Ehud Barak wanted to visit India, but was given a cold shoulder.

According to high ranking officials in Jerusalem, the two historic visits show that the Indians no longer worry about the Arab world's response to warmer ties with Israel. This is also the reason behind the strengthening of defense industry ties between the countries. It was recently reported that India and Israel are planning to co-develop missiles and protection systems. Israel is the second largest defense exporter to India – which is the largest defense importer in the world. The only country that exports more weapons to Israel is Russia. Israel has sold India; patrol boats, cannons, missiles, UAV's and electro-optical equipment. In October of 2014 a deal was signed between the countries, in which Israel would sell India $500 million worth of Spike anti-tank missiles.

After Netanyahu's victory in the elections, Modi surprised him with a tweet in Hebrew saying; "congratulations my friend." Netanyahu is one of the few leaders in the world that Modi has termed his friend. In 2003 then Prime Minister Ariel Sharon visited India. Modi had also visited Israel in 2006 as governor of the state of Gujarat.

In November of 2014, in a meeting with then president Shimon Peres, Modi said he was; "very impressed with Israel. India appreciates the contribution of the state of Israel to the world of advanced technology; Israel combines innovation, creative ideas, and bravery that have solved several problems around the world. I personally experiences Israel's great abilities when I led the state of Gujarat, and I opened a technological greenhouse center, with the participation of several Israeli companies that where the best in their field."

In this instance he told Peres of his close connection with Israel, and his deep appreciation for Israel's technology; "I visited Israel in 2006, and asked I specifically asked my hosts to see Ben Gurion's house in the Negev, and was amazed to see the pictures of Ghandi next to his bed. There is a similarity between their homes – A similarity that can be seen in both men's values. I was excited to see this and felt a great closeness with Israel- something that has influenced me to this day.