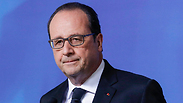 Since the start of tortuous nuclear negotiations with Iran, France has been seen as taking the toughest stand. Now as a deal nears, Paris must be ready to dash in and grab a slice of the long untapped market.

"The first repercussions of any deal will be the opening of the Iranian market. That's what all the Western countries are waiting for," a top western diplomat said recently.

"They are jostling as if they're at the start of a marathon, and are keeping a close eye on one another."

After years of biting sanctions, countries are on the starting blocks ready to resume business with Iran, said one French economist.

With a population of 77 million people, Iran has the world's fourth largest oil reserves and the second largest gas reserves.

Any deal struck with global powers aims to put Iran's nuclear ambitions under strict international control in return for a gradual lifting of sanctions.

"Be careful, don't be late. You have to prepare yourselves. The market won't wait for you and your competitors are already there," said the Iranian ambassador to France, Ali Ahani, in 2013.

And it's not just the French. Russia and China are desperate to hold onto and increase their own slice of the pie. While American companies, long shut out of the Iranian market, are also keen to return.

France used to have a strong presence in Iran before the sanctions went into effect, with Peugeot and Renault being major players in the Iranian auto industry and energy giant Total heavily involved in the oil sector.

But two-way trade has fallen from four billion Euros in 2004 to just 500 million in 2013, according to French statistics.

"Unfortunately we are heavily criticized by Iranian society, which sees us as having abandoned them during a difficult time," said Carlos Tavares, the chairman of French automotive giant PSA Peugeot Citroen, recently.

Chinese manufacturers "are already at the door, the Americans too," he said, adding that "to rebuild trust (of the Iranians) is difficult."

The French employer's federation, MEDEF, is due to visit Iran in September to try to kickstart ties.

Some 107 representatives from the body travelled to Iran early last year, triggering anger in the US which said it was still too early to do business with Tehran.

But the 2014 visit came hot on the heels of delegations from Italy, Germany, Austria, Portugal and South Korea.
Bad cop
Despite strong cultural and historic ties, France's image has suffered in Iran during almost two years of nuclear negotiations during which it has adopted a tough position, observers say.

But Iranian Transport Minister Abbas Akhoundi said recently that "no doubt economic leaders will be more realistic than politicians and they will be able to ensure their logic succeeds".

Paris, which has taken a leading role in the negotiations since the Iranian nuclear program was first uncovered in the early 2000s, has publicly at least adopted a hawkish position.

French Foreign Minister Laurent Fabius insists repeatedly that any nuclear deal with Iran to curb its nuclear program must be "robust."

"We're not tough, we're coherent," he told the weekly Paris match this week.

Adopting the mantle of being the guarantor of any deal, France is also eyeing large contracts with Sunni-majority nations in the Gulf, which have long been wary of Shiite Iran's regional ambitions and its role in Middle East crises.

"We haven't made a choice of Sunnis over Shiites," Fabius said. "Iran is a great country, a great people and a great civilization. It's not anti-Shiite to say we don't want nuclear proliferation."

Thierry Coville, expert with IRIS, the Institute for Strategic and International Relations, however questioned the French strategy.

"We wanted to play the role of 'bad cop', but on the diplomatic front there has been a lot of unhappiness about that," he told AFP.

"We've been seen as the staunch ally of Israel and Saudi Arabia."

In a sign of the tense relations, the reformist Iranian daily Shargh last week headlined Fabius's arrival at the Vienna talks as "The return of the French obstacle."