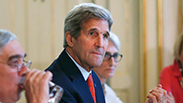 US Secretary of State John Kerry
Photo: AP
Iran and the United States have made "genuine progress" on a nuclear deal but there are several difficult issues to resolve and Washington is ready to walk away from the talks if need be, US Secretary of State John Kerry said on Sunday.

"We have in fact made genuine progress but ... we are not yet where we need to be on several of the most difficult issues," Kerry told reporters. "If we don't have a deal and there is absolute intransigence and unwillingness to move on the things that are important (for) us, (US) President (Barack) Obama has always said we're prepared to walk away."

He went on to say the deal must be able to pass the scrutiny of nonproliferation experts, and, "Most importantly, President Obama has made it clear we have to close off the four pathways to the potential of a bomb."

Kerry and and Iranian Foreign Minister Mohammad Javad Zarif met for a sixth consecutive day on Sunday to try to resolve obstacles to a nuclear accord, including when Iran would get sanctions relief and what advanced research and development it may pursue.

Kerry and Zarif are trying to meet a Tuesday deadline for a final deal under which Iran would curb its atomic work for more than a decade in exchange for sanctions relief.

While they have made some progress on the type of bilateral sanctions relief that Iran may receive, the two sides remain divided on such issues as lifting United Nations sanctions and on research and development using advanced centrifuges.

"Many of the issues related to sanctions have been resolved, and there are four or five issues that remain including the important topic of ensuring both sides' steps correspond to each other and happen at the same time," Iranian Deputy Foreign Minister Abbas Araqchi was quoted as saying by the ISNA agency.

Kerry makes statement about Iran talks

Iran, the United States and five major powers, Britain, China, France, Germany and Russia, are trying to resolve a more than dozen-year-old dispute over Iran's nuclear program, which the big powers suspect aims to develop a nuclear weapons capability.

Iran denies this, saying that its program is solely for peaceful purposes such as producing medical isotopes.

Diplomats close to the negotiations have said they had tentative agreement on a mechanism for suspending US and European Union sanctions on Iran.

But the six powers had yet to agree on a United Nations Security Council resolution that would lift UN sanctions and establish a means of re-imposing them in case of Iranian non-compliance with a future agreement.

The negotiators missed a June 30 deadline for a final agreement, but have given themselves until July 7. Foreign ministers not in Vienna are expected to rejoin their counterparts in a final push for a deal beginning on Sunday.

French officials said Foreign Minister Laurent Fabius planned to come on Sunday, but was unlikely to arrive before the evening. It was not clear when the British, Chinese, German and Russian foreign ministers would arrive.

All sides say a deal is within reach. But there are other sticking points in addition to sanctions and future monitoring mechanisms.

One is a stalled UN investigation into the possible military dimensions of past Iranian nuclear research suspected of being linked to weapons development.

Another is Iran's demand to continue research and development work on advanced centrifuges, machines that purify uranium for use as fuel in power plants or weapons.

According to the United States, Iran agreed in an April 2 framework agreement not to use its IR-2, IR-4, IR-5, IR-6 or IR-8 model centrifuges to produce enriched uranium for at least 10 years. Iran would, however, engage in limited research and development with its advanced centrifuges according to a plan "agreed to" by the major powers.