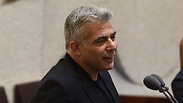 Yesh Atid Chairman Yair Lapid
Photo: Gil Yohanan
Yesh Atid Chairman Yair Lapid slammed the developing agreement on Iran's nuclear program on Monday, saying that Prime Minister Benjamin Netanyahu was to blame for the current impasse in the talks.

In a studio interview with Ynet, Lapid said the emergent accord was a bad deal: "We have to fight (the deal) until the last moment if possible because this is a bad agreement for the state of Israel, I think there is no coalition and opposition in opposing this agreement."

Yair Lapid discusses emergent Iran deal with Ynet (צילום: אלי סגל ואבי חי )

Lapid spoke to the toothless nature of any deal without snap inspections. "You can't have an agreement without snap inspections," he said. "The inspectors should have the ability to pop up from the ground and say, 'we want to see that you are not developing anything that is forbidden behind closed doors.'

"Instead you have a committee and you have to ask the Iranians for permission before you go to inspect them.

"The Israeli Prime Minister is not to be blamed for the agreement, but is to blame for not being part of it," he added.

Lapid said the better option for Israel would have been to take an active role in the formation of the agreement. "We should have had a delegation in Vienna, we should have been participants – a nation with possible influence in the agreement," he argued.

The relationship between Netanyahu and the current American administration kept Israel from exerting influence, according to Lapid. "We should have had an open channel of communication with the American administration," he said.

"We don't have all this due to the relations Netanyahu has not only with the American administration but also with the P5+1 including China, Russia, France, Germany and UK." According to Lapid, "none of them were willing to listen due to Netanyahu's foreign policy."

Lapid accused Netanyahu of failing to prevent a bad deal. "We went to the citizens of Israel and said, 'I'll prevent an agreement,'" said Lapid. "You didn't prevent an agreement. You have to go home."

Lapid did however promise that when and if an agreement was signed, his party would fight it alongside the government.

Both US Secretary of State John Kerry and Iranian Foreign Minister Mohammed Javad Zarif released statements on Saturday alluding to progress in the talks, as the July 7 deadline for an accord rapidly approaches.

Lapid also had criticism for other recent government actions. Regarding the government's decision on Sunday to strike down a reform that was meant to enable easier conversions to Judaism, Lapid said Israel had betrayed three groups of Israelis.

The first group was women, he said. "A woman who goes to family court is in a worse position than yesterday; she becomes a second-class citizen before the courts.

"The second betrayal is of 300,000 Israeli citizens who are told, 'we'll draft you into the army and you'll die in Operation Protective Edge, but in life you are second-class citizens and your conversion will not occur.

"The third betrayal is of world Jewry. On the one hand we're trying to recruit American Jews in particular in the battle against Iran's nuclear program, to assist in Israel's security, but yesterday we told them that their rabbis are not rabbis, their conversions are not conversions, their synagogues are not synagogues. Israel declares them to be second-class Jews."