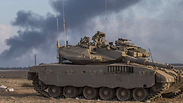 IDF tanks on the Gaza border during the war
Photo: AFP
Prime Minister Benjamin Netanyahu on Monday had a message to Israel's enemies, saying "those who try to hurt us, their blood be on their own heads."
Netanyahu was speaking at a state ceremony honoring the 67 soldiers and officers and five civilians who were killed during Operation Protective Edge last summer in Gaza.
His warning was aimed not just at Hamas, but also at Hezbollah, Iran and the Islamic State. "We're closely monitoring the situation in the south and preparing to act with force when required to do so," he said, as southern residents have been suffering for several weeks from sporadic rocket fire from the Gaza Strip and recently from the Sinai Peninsula as well.
Turning to bereaved families, Netanyahu said that "In every meeting and every conversation I had with you, one sentence kept coming back, 'I'm feeling great pain in my heart, but also great pride'. I know well that there is no end to your grief, but alongside this you have the knowledge that your sons' bravery saved many lives in Israel."
President Rivlin noted the suffering of Israeli citizens throughout the war and before it, under threat from rockets and terror tunnels. He also paid tributed to the fallen soldiers and their families, and to wounded soldiers still leading a daily battle to rehabilitate.
However, Rivlin noted that Israel's mission remains incomplete. "We are still yet to see the return of two of our sons; Staff Sergeant Oron Shaul, and Lt. Hadar Goldin. We shall not rest till we bring them for burial in Israel," he vowed.
Noting recent rocket and terror attacks, the president said that, "We are not a people of war, but if forced to take up arms to defend our borders and our existence we will not hesitate to do so.
"The State of Israel cannot continue to be held hostage by an enemy which operates in the heart of their civilian population. An enemy which does not respect human rights, which does not respect human life, an enemy which scorns international law and democracy," he added.
"Only the eradication of terror will bring an end to the murder of innocents on both sides," he stressed, adding that "When there is no fire towards Sderot, Nahal Oz, Nir Banim, Ashdod or Ashkelon - then there will be no fire towards the Gaza Strip."
Alongside Rivlin and Netanyahu, the ceremony was also attended by Defense Minister Moshe Ya'alon and IDF Chief of Staff Gadi Eisenkot as well as bereaved families, Israeli politicians from both coalition and opposition, and other dignitaries.