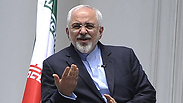 Iranian Foreign Minister Zarif
Photo: AFP
VIENNA - A day before the new deadline for a nuclear accord, Iran pushed on Monday for an end to the UN arms embargo on the country and sanctions on its ballistic missiles program - a parallel deal that the United States opposes as it seeks to limit Tehran's Mideast power and influence.

Speaking on the eve of an already-extended target date for a complete agreement, a senior Iranian official and a US official said Iran and the six world powers it is negotiating with are also working on a UN resolution that would endorse any future nuclear deal.

Lifting the arms embargo would be separate from a long-term accord that foresees limits on Iran's nuclear programs in exchange for relief from crippling economic sanctions on the Islamic Republic. But Iran also sees existing UN resolutions affecting Iran's nuclear program and the accompanying sanctions as unjust and illegal. It has insisted that those resolutions be lifted since the start of international negotiations nearly a decade ago to limit its nuclear-arms making capability.




This dispute, among others, is holding up nuclear talks in Vienna, according to Western officials.

"The Iranians want the ballistic missile sanctions lifted. They say there is no reason to connect it with the nuclear issue, a view that is difficult to accept," one Western official told Reuters. "There's no appetite for that on our part."

"The Western side insists that not only should it (Iran's ballistic missile program) remain under sanctions, but that Iran should suspend its program as well," an Iranian official said. "But Iran is insisting on its rights and says all the sanctions, including on the ballistic missiles, should be lifted when the UN sanctions are lifted."

After world powers and Iran reached a framework pact in April, the US said "important restrictions on conventional arms and ballistic missiles" would be incorporated in any new UN guidelines for Iran. It also said "a new UN Security Council resolution ... will endorse" any deal.

Negotiators and some foreign ministers of the six world powers plus Iran gathered in Vienna to complete a comprehensive nuclear deal by June 30. When they couldn't reach agreement by then, they agreed to extend the deadline to July 7. But many core issues remain, and an announcement on Tuesday is unlikely.

While the discussions have been focused on uranium stockpiles and the timing for lifting economic sanctions, Iran's longstanding desire to have the arms embargo lifted at the signing of a deal is another wrinkle thrown into the mix.

Alireza Miryousefi, a press officer for the Iranian delegation, said: "This is an issue under discussion for quite some time. But it's not true that it's holding up negotiations."

Russia and China have expressed support for lifting the embargo, which was imposed in 2007 as part of a series of penalties over Iran's nuclear program.

But the US doesn't want the arms ban ended because it could allow Tehran to expand its military assistance for Syrian President Bashar Assad's embattled government, for the Houthi rebels in Yemen and for Hezbollah in Lebanon. It also would increase already strong opposition to the deal in Congress and in Israel.

Lifting the embargo is one of the important issues being discussed, the Iranian official said. "There should not be any place for the arms embargo."

The Iranian official briefed reporters on the condition that he not be named. The US official spoke on condition of anonymity because the official wasn't authorized to discuss the negotiations publicly.

Iran wants to have a hand in shaping any Security Council resolution endorsing a comprehensive nuclear deal, the Iranian official added. He offered no details, but said Iran is interested in wording that shifts the critical tone of previous resolutions passed over Tehran's nuclear program.

The Iranian official spoke of good progress on some issues. But at the same time, he said some disputes may have to be resolved by the foreign ministers of Iran, the United States, Russia, China, Britain, France and Germany. All seven were either in Vienna by Monday or planned to arrive during the day.

Even with the added diplomatic muscle, it was unclear if there would be a pact. On the ninth day of talks Sunday, US Secretary of State John Kerry said the negotiations "could go either way."

"If the hard choices get made in the next couple of days, and made quickly, we could get an agreement this week," Kerry said. "But if they are not made, we will not."

Over the weekend, diplomats reported tentative agreement on the speed and scope of sanctions relief for Iran in the potential accord, even as issues such as inspection guidelines and limits on Iran's nuclear research and development remained contentious.

Tuesday's deadline is the latest that has been set for a comprehensive pact that would replace the interim deal world powers and Iran reached in November 2013. That package was extended three times, most recently on June 30.

Reuters contributed to this report.