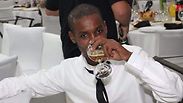 Abera Mengistu
Family Photo
Two Israelis are believed to be held captive in the Gaza Strip, one of them missing for ten months, it was revealed on Thursday morning following the lifting of a gag order.
One of them, Abraham "Abera" Mengistu, 29 from Ashkelon, has gone missing in the early hours of September 8, 2014, and was seen crossing the border into Gaza out of his own volition. A second citizen, a Bedouin resident of the south, has also crossed the border into the Strip, also of his own accord, several months later.
Mengistu was seen walking on the beach, heading south. He reached the Zikim beach area, and continued walking south until he crossed an electric fence that divide Israel from Gaza. The fence starts on the beach and continues into the water.
Gaza is fenced in by Israel to the north and east and by Egypt to the south. To the west it faces the Mediterranean. In some places the fence between Israel and Gaza is only a few metres high, while it is also possible to swim around into Gaza, although the Israeli military closely monitors such activity.
Security forces stationed in the area noticed the man after he had crossed the border, and forces were immediately dispatched to the area, including a helicopter and ground troops. Mengistu continued on his path into Gaza and never returned.
Over the past ten months, Israel has been trying to hold secret negotiations for the return of the two Israelis as well as the bodies of IDF soldiers Oron Shaul and Hadar Goldin, who were killed during Operation Protective Edge and whose bodies were snatched by Hamas.
However, according to a senior Palestinian official in the Gaza Strip, Mengistu was held by Hamas in Gaza at one point but was released after they realized he was not a soldier. According to the source, Hamas announced that Mengistu had left Gaza through tunnels in Rafah and continued on to Egypt, and that he is no longer in Gaza.
A senior defense official said there was no current information on Mengistu's fate, and that he had initially been arrested by Hamas, which claimed it had questioned Mengistu but released him because he was not a soldier.
Maj. Gen. Yoav Mordechai, the coordinator of government activities in the territories (COGAT), said that "according to credible intelligence," Mengisto is being held "against his will" by Hamas. However, senior defense officials said it was unclear whether this was the case.
Mordechai went on to say that "Israel has appealed (to) international and regional interlocutors to demand his immediate release and verify his well-being."
"Two possible reasons as to why Hamas is denying to us that it has Abera: It's either a bargaining tool, or because something serious happened to him. We are working under the assumption that he's alive, even though we haven't received any sign of life," a senior security source said.
Mengistu is allegedly mentally ill and is known to the Ashkelon social services. The Ethiopian immigrant had left his home and gone missing for days at a time on numerous occasions in the past. His family reported three different cases in the past in which he left home and failed to return.
A joint investigation was launched by the Shin Bet and the Southern District Police's terrorism unit.
'Israel doesn't seem to care about Abera'
After the lifting of the gag order on Thursday, Mengistu's family held a press, urging Hamas to release him and calling on the government of Israel to make efforts to bring him home.
"Now that the story of my brother has finally come out, we will no longer remain silent," the missing man's brother, Yalu Mengistu, told Yedioth Ashkelon.
"There will be rallies and demonstrations, there will be media coverage and especially, we will be talking. They will hear us. We have lost confidence in the country and it seems like it does not care about our brother. The prime minister bothered to contact us only this week, on Wednesday. We sent him a letter at the beginning of the incident and he could not find the time to meet with us."
Another brother, Ilan, called on the government for assistance. "My brother apparently crossed the Gaza border and there's been no trace of him since then. I ask the Israeli government to do everything to return my brother home safely. I ask the international community to do everything to help."
Addressing Hamas, Ilan asked the organization to consider his brother's condition and to immediately release him. "At this stage my family and I will act with restraint to allow them to do everything to let him go," he said. "I ask the citizens of Israel to act with restraint."
"Hamas is responsible for my son's fate, they can not shirk their responsibility," the young man's mother said. "I hope the state will not cease to act for his return."
"It hurts me. Since he disappeared, my life has come to a stop," Mengistu's mother said during a visit of Ashkelon Mayor Itamar Shimoni. "Every day I wait for him to come through the door and say hello. I pray for his return, and ask anyone who can help us to do so."

Mengistu's father told Channel 10 that he had written to the IDF and been told that they would handle the incident.
"They said they'd take care of it, 'your child is our responsibility, we are here, we will take care of him. Don't tell anyone and don't talk.' That's what they said that in the end they did nothing. And why did they do nothing? And now my son, where is he? How could they say 'he's our responsibility' and how can they say he's not found?"
Hamas blows the lid on case
The lifting of the gag order came after Hamas leader Khaled Mashal claimed Wednesday that Israel has been sending messages to the group through a European intermediary, asking the organization to return the bodies of two soldiers in their possession since Operation Protective Edge - Staff Sergeant Oron Shaul and Sec.-Lit. Hadar Goldin.
The military wing of Hamas, the Izz ad-Din al-Qassam Brigades, held a mass rally in Rafah in September of 2014. On the day of the rally, a display was erected in Rafah - a tall pole with a big black square attached to it with the writing "the black box" in Hebrew and Arabic. The sign, which Hamas failed to explain, caused a stir in Gaza, and the Palestinian media in the Strip tried to no avail to figure out the nature of the vague message.
Hamas apparently hoped that the case would be reported in Israeli media, but began pushing the issue in Arab media sources when they realized that a gag order had prevented reports from emerging that would reach the Israeli public. From there, the story reached international media - specifically bloggers, as official news agencies could not verify the story through the Israeli government.
Gaza residents were witness on Wednesday evening to a parade by the organization's military wing marking the anniversary of Operation Protective Edge. The procession included a mock tank and a giant fist holding "military ID tags" belonging to Shaul alongside two tags bearing question marks.
Shaul was killed in Saja'iyya on July 20, 2014. Six of his friends were killed in the attack and Shaul was declared as missing. Five days after the incident, Defense Minister Moshe Ya'alon, the then-head of the IDF's manpower directorate, and current Chief Military Rabbi notified the family of Oron's death.
Sec.-Lt. Hadar Goldin was killed in an incident which would later be dubbed "Rafah's Black Friday." The commander of the Givati reconnaissance company, Major Benaya Sarel, and his radioman Staff Sergeant Liel Gidoni were killed in the incident as well. Goldin was declared missing, and later declared dead.