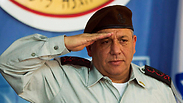 Eisenkot (Photo:Reuters)
Photo: Reuters
Chief of staff Eisenkot released a memorandum to IDF service members Wednesday, in which he stated the army will continue the process of optimizing manpower, which includes painful sacrifices, but will preserve the rights of service members. Eisenkot was hinting at recent reports that say that the Locker commission report on military budget utilization will include elements which hurt career military personnel - which Eisenkot refuted.

Major General Yohanan Loker submitted the commission's report to the Prime Minister Benjamin Netanyahu Tuesday. With that said, the report will not be available to the public for at least two weeks. The newspaper 'Calcalist' estimated that the report recommends raising the military budget to NIS 58 billion. The most important aspect of the report is about the career officers and NCOs, which includes changing their pensions.

"I agree that major changes are needed in the IDF, but I will not give a hand to any attempt that seeks to harm career personnel, who choose to devote their lives to Israel's security," Eisenkot wrote in the memorandum. "Some of the report's recommendations are as a result of IDF management work, and they are currently being examined as a part of the multi- year plan. The IDF plans to learn the recommendations."

According to a Tuesday report on channel two, among the reports recommendations is cancelling the career army bridge pensions, and offers the solution of one-time payments totaling hundreds of thousands of shekels determined by several factors like length of combat service.

The perceived change will affect most career army service members under age 35, and will allow them to leave the military before age 30 or 40. Additionally, the rehabilitation branch of the Defense Ministry, which cares for thousands of disabled veterans, and has a multi-billion shekel budget, will only care for soldiers wounded in combat operations.

Eisenkot has come out against the reports in the media, and said that they have created an unnecessary wave of rumors. "The IDF's power lays in the quality of its human capital, in which the combat units are the center."

In that quote he was hinting at a battle taking place between treasury officials and defense officials. "The IDF does not have a union, or the ability to strike. So the commanders of the IDF must bear the heavy responsibility to care for our people in a fair and worthy manner."