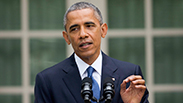 אישור נישואים גאים ארה"ב חגיגות נשיא ארה"ב ברק אובמה
Photo: AP
According to a report in POLITICO on Wednesday; President Barack Obama pegged the chances of a nuclear agreement with Iran at "less than 50-50," even as he worked to reassure Senate Democrats that he won't accept a bad deal.

"He said the chances he thought were less than 50-50 at this point and that he wouldn't agree to something he thought was weak or unenforceable," Sen. Dick Durbin said in an interview with POLITICO on Wednesday. "But if he comes up with an agreement and it meets his standards he wanted us to take an honest look at it and not prejudge."

Obama told Senate Democrats that he will not agree to a bad nuclear deal with Iran, and asked them to withhold judgment until the deal is completed.

Obama got no resistance to that message over wine and appetizers in the White House State Dining Room on Tuesday evening, participants said the next day.

A testy debate over trade last month divided Obama from many in his party. Tuesday's meeting was an opportunity for Obama and Democrats to reset their relationship in preparation for the legislative session ahead.

A top focus was Iran, according to several lawmakers. Prospects are uncertain for the Obama administration to complete a deal, but if the accord isn't sent to Congress by Thursday, its month-long review period would be doubled to 60 days.

Obama has expended significant political capital on finalizing an agreement to keep Iran from going nuclear, prompting Republicans to accuse him of making too many concessions and even some Democrats to express deep ambivalence.

Tuesday night, he asked Democrats to support him if he does reach a deal that's good enough for him to sign onto.

"He wanted to make it perfectly clear that he is in no rush to an agreement and that he will walk away from the table if there is no good deal to be reached and that there isn't a deal yet, and so all of these reports about what is in a deal are premature," said Sen. Chris Murphy.