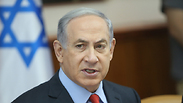 Prime Minister Netanyahu
Photo: Alex Kolomisky
Prime Minister Benjamin Netanyahu said Thursday that Israel is sparing no efforts in returning the two Israelis held by Hamas in Gaza.

Abera Mengistu was seen crossing the border into the Gaza Strip 10 months ago and has since been missing. A second Israeli, a Bedouin resident of the south, is also reported missing.

Netanyahu spoke to Mengistu's family on Wednesday, and said he plans to meet with them soon. "I told them that since the moment the incident became known, we have not spared any efforts in returning him to Israel," he said.

"We're working to return the two Israelis who crossed the border fence into Gaza. We view Hamas as responsible for their wellbeing," the prime minister continued. "I appointed a representative to coordinate all of the activity on the issue on my behalf and the communication with the families. I expect the international community, which has expressed its concern of the humanitarian situation in Gaza, to come out with a clear call to release the civilians and ensure their return."

Defense Minister Moshe Ya'alon said that "the State of Israel is making great efforts to return them to their families. We view Hamas as responsible for them and demand their return."

Ya'alon said he met with Mengistu's family to update them on Israeli efforts to bring him back.

"We're also in contact with the family of the second Israel being held in the Strip and update them on any developments," he said.

Yisrael Beytenu leader Avigdor Lieberman, who served as a foreign minister in the first two months after the two Israelis crossed the border into Gaza, added: "Even as a minister and a member of cabinet, we were not briefed on the story. I'm concerned that the lessons from previous cases have not been learned. Since the Jibril deal we've been paying high and unreasonable prices."

"This is a humanitarian issue, and we expect those holding him to behave accordingly and return him in good health," President Reuven Rivlin said about the missing men. "According to the information which has arisen, Mengistu is being held by Hamas in the Gaza Strip. We will continue to make every effort in order to bring an end to this incident, as soon as possible."

Moran Azulay, Yoav Zitun, Ahiya Raved contributed to this report.