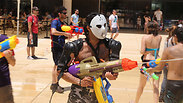 Photo: Moti Kimchi
Photo: Moti Kimchi
Hundreds converged on Habima Square in downtown Tel Aviv on Friday to take part in a summer tradition, a war that results in smiles and fun rather than wounds and fear - Tel Aviv's annual water war.

Participants arrived armed from bikini bottoms to bare chests with water guns, water balloons and other more sophisticated accessories.

The event took part spontaneously after organizers attempting to break a world record for the number of participants were unable to meet the monetary demands of authorities to pay for security.

Video: Moti Kimchi (צילום: מוטי קמחי)

Daniel, one of the happy participants, told Ynet, "This is the third year I'm come to the water war. It's fun. We get in the pool and try to get other people wet. It's hard to explain why it's fun, but it's fun."

Tel Aviv's municipality said that Friday's spontaneous meeting was not supported or organized in any way by the city. "Organizers informed the municpality that the event was cancelled and the people who came did so on their own without any coordination," said the city.

One of the organizers who decided to cancel the event said, "We didn't manage to raise enough money and so we couldn't take responsibility if tens of thousands of people came. So, we had to put out a message that we wouldn't organize the event this year, but some people still took it upon themselves to hold the event. That is, of course, not in our control."