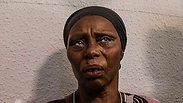 Abera Mengistu's mother
Photo: AP
'I want my son to come home, to hear his voice and hug him'
In a small apartment in Ashkelon, Abera Mengistu's mother cannot stop crying. She lost her elder son three years ago, and doesn't know what became of another son; 'We don't know what to do,' the father says. 'We met with MKs, other officials, but the Shin Bet told us not to talk'.
On Wednesday evening, the prime minister's envoy on hostages and missing persons, Lior Lotan, arrived at the Mengistu family home in Ashkelon. The entire family was gathered in that small apartment, on the first floor of an old residential building in the Shimshon neighborhood. They were joined by Gabriel Tagbo, who has been accompanying the family since their son Abera crossed the border fence into Gaza and disappeared. Lior Lotan whipped out his phone. On the line was Prime Minister Benjamin Netanyahu, who told them he was doing all he could to bring their son home in one piece.

Abera's mother, Agernash, is sitting in the living room and crying. "There isn't a moment I don't think about him and miss him," she says. "I'm waiting for that moment when he comes through the door like he used to. I miss him and want him to return to me soon. I want to hear his voice, know how he's feeling, hug him, have him close to me. I'm asking the prime minister to bring back my son as soon as possible. There's a lot of sadness and frustration inside of me from this situation. My pain is only growing stronger as a result of the waiting. Just let him come home in one piece."

The family is watching a video which shows their son crossing the border fence into the Gaza Strip, walking alone for several minutes. No one is stopping him, no one is calling him; he keeps walking until he is in the hands of the Palestinians. This happened on September 8 last year. Ten months have passed since, and the Mengistu family has no idea what happened to their son.

"We don't know what to do anymore," says the father, Haile Mengistu. "I've done all I can. We met with members of Knesset and other officials. But the Shin Bet came here and told us not to talk. Lior Lotan is helping us. We don't want much; we just want Abera back home. We're counting on the government and hope they do everything. This is what the prime minister promised us yesterday."

The Mengistus made aliyah during Operation Moses, in the mid-1980s. At first they lived in Jerusalem and later moved to Ashkelon, to a small public housing apartment. Abera, 26, is one of six siblings. His parents divorced three years ago, and since then the father has been moving around between relatives and places.

Abera's disappearance is the second tragedy that has befallen the family. Three years ago, Haile and Agernash Mengistu lost their elder son Michael. "Michael starved himself to death," Ilana Kabada, Agernash's best friend, says. "Michael was an amazing child. He loved everyone, he helped people. Not just us, he helped everyone. Suddenly he stopped eating. For a year and a half he hardly ate anything. I remember one of my sons paid for a doctor to come to the Mengistu home to treat him. In the end, when he was dying, he was taken to the hospital and there the doctors had to declare him dead. The poor mother, my heart aches for her, crying all day. There is no day in which she's not crying. She has been waiting for her Abera for a long time. It's very difficult for a mother to lose one son and not know what happened to another. It's really hard."

Since his brother's passing, Abera's situation deteriorated. "They were very close," says one of the neighbors. Friends speak of a guy who faded away, who just got worse. "He would wander around the neighborhood. Every now and again he'd sleep away from home. I remember him wandering around, looking for scraps of cigarettes outside. He was harmless, but during Protective Edge he was talking about going to Hamas and kicking their ass. During rocket sirens, he'd wander around, wouldn't go into the shelter. He was very kind, an introvert who didn't talk much, just wandering around. And then one day we heard he disappeared," says Darja, one of the neighbors.

Saba Warnkanch, 28, lives across the street. She describes the family as introverts, good people. "99 percent of the neighborhood is Ethiopian immigrants," she says. "It's a catch 22, young people who come to the neighborhood have a hard time getting out, it's very difficult.

"I definitely know him well. Like everyone, I heard what happened to him. It's simply a tragedy - how he crossed the border and how the Israeli government hasn't done anything so far, and even if they did, how they were able to silence this story so far."
Shattered family
More and more people come to visit the family. Passersby, neighbors, acquaintances and even some politicians, who up until now did not even bother calling, came to show their support to the family now that the story has gone public. A battalion of journalists is standing at the entrance to the building. The family keeps to their apartment. At a certain point, the parents and siblings come outside to deliver a short statement, written by media advisors who volunteered to help.

"Every time there's a knock on the door, I'm sure it's him. I know he'll come. I've been waiting for him to come," the mother says, and goes back into her home.

Gabriel Tagbo, 34, has known the family for ten years. He was the children's counselor at the neighborhood community center, and has since been accompanying the family. On Thursday, when the gag order was lifted, he was with the Mengistu family.

"The mother is shattered. She is a shadow of her former self," he says. "She cries all the time. The cameras, the flashes and the questions of the journalists make it harder for her. She keeps repeating that she wants her son, wants to hug him, wants him near. She keeps saying she wants her son now.

"The Mengistu family is a typical Ethiopian family. A family that used to be united and respected and because of tragedy, its situation has been getting increasingly worse. After Michael committed suicide, Abera became depressed. The situation just deteriorated. Because of the death of their son, the parents got divorced. Everything just became worse and worse and this respected family just turned into a family that is deep in crisis."

The public might not have been aware of it, but the family fought to bring their son back the entire time, in their own quiet and polite way. About two weeks after he crossed the border, the family turned to then-MK Pnina Tamano-Shata from Yesh Atid, and asked for her help in trying to rescue him from Hamas captivity. Tamano-Shata has since made supreme efforts with the prime minister and other security officials, to no avail.

"The family turned to me on Facebook," Tamano-Shata says. "I called Abera's brother to confirm that the story was true, and if so, whether they needed help. Even then this story sounded strange to me. How is it possible that a young man, almost a month after the war, crosses the border? And you have to remember, this was after Protective Edge, a very tense period. Soon after the conversation with the brother I realized the magnitude of the story and the dangers it entails. I did my own inquiries and since then I've been accompanying them.

"This is an incredible family that is going through a really difficult time and is under tremendous amounts of pressure, which is part of a story that has been going on for almost ten months. This family had to live under a sweeping gag order, which made it hard for them to act in public. On the one hand, they don't know what happened to their son, and on the other hand, they respect the state authorities. Their son is somewhere in Gaza, no one knows what's going on with him. The uncertainty was great, and remains so even today. The bottom line is that the state must do everything to return Abera home. And Hamas, despite their denials, I turn to them and tell them they need to free this young man because he is not a healthy person."
T-shirt with a question
On Thursday, social activists Yayo Avraham and Inbar Bugale, two of the leaders of the Ethiopian community's protest movement, arrived at the family's home dressed in white T-shirts that say "Abera Mengistu" with a big question mark. In recent protests in Tel Aviv, some of the Ethiopian activists were seen walking around with these shirts, but only a few knew what the mysterious writing was referring to.

"It's very hard to ignore the fact that the authorities haven't done a thing for ten months," Yayo Avraham says. "The fact this kind of story remains secret for ten months and no one does anything about it, shows a lack of respect to the family. I'm sure that negotiations were held with Hamas - about him and about others. What amazes me is the negligence of the state and security establishment. How is it possible that a young man crosses the border and nothing happens? It's simply unbelievable. I'm sure that if this was an influential family, the gag order would not have gone on as long as it did. It was easier for everyone not to do anything about it, which is a shame."

Asher Elias, one of the most prominent social activists, was among the first who contacted the family. He is angry that Mengistu is presented as mentally ill. "I would like to say one very short sentence, and it goes like this: Aevra Mengistu is not mentally ill. It is our society that is mentally ill."

"We're afraid," Mengistu's family says. "We were not encouraged by the conversation with the prime minister. We're hurting, and angry. We realized it's still a long way until he comes back home."

The father, meanwhile, is trying to find a splinter of hope: "These have been three very difficult years, but I believe what has been broken, God will fix."