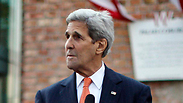 US Secretary of State Kerry
Photo: Reuters
US Secretary of State John Kerry said progress had been made Friday in tough talks with Iran on its nuclear program, praising what he called the "constructive" atmosphere.

"I think we have resolved some of the things that were outstanding and we've made some progress," he said, speaking to a few reporters as he met with his team of experts in Vienna.

Meetings have been happening all day, Kerry said, adding: "We have a couple of different lines of discussion that are going on right now."

"The atmosphere is very constructive," he told the reporters who travelled with him from Washington.

"We still have a couple of very difficult issues, and we'll be sitting down to discuss those in the very near term – this evening and into tomorrow."

Kerry and Zarif met on Saturday with European Union foreign policy chief Frederica Mogherini and were conferring with other foreign ministers involved. German Foreign Minister Frank Walter Steinmeier and French Foreign Minister Laurent Fabius are both in Vienna. British Foreign Secretary Phillip Hammond was expected later Saturday.

The Chinese and Russian foreign ministers have said they will come to Vienna if a deal appears close.

After his meeting with Mogherini and Zarif, Kerry tweeted that there are still "difficult issues left to resolve."

Negotiations over Iran's nuclear program blew past the two-week mark in Vienna on Saturday.

The White House said on Friday the United States and its negotiating partners "have never been closer" to agreement with Iran but that the US delegation would not wait indefinitely.

China's official Xinhua news agency quoted a diplomatic source as saying the West and Tehran had almost agreed on the clarification of Iran's alleged past nuclear weapon program, so called possible military dimensions (PMDs) issues and big progress was also made over capping Iran's nuclear capability in the deal.

Iran and six powers - Britain, China, France, Germany, Russia and the United States - are trying to end a more than 12-year dispute over Iran's atomic program by negotiating limits on its nuclear activities in exchange for sanctions relief.

The sides remain divided over issues that include a UN arms embargo on Iran which Western powers want to keep in place, access for inspectors to military sites in Iran and answers from Tehran over past activity suspected of military aims.

Iran's foreign minister Mohammad Javad Zarif said a deal was unlikely to be reached on Friday and negotiators would probably spend the weekend in Vienna. He sought to blame the West for the impasse.

"Now, they have excessive demands," he said of the major powers' negotiating position.

The talks are now heading into their third weekend in Vienna as global powers and Tehran seek to bridge the final gaps blocking a long-sought deal.

But the negotiations have become bogged down, with final deadlines extended three times in the past 10 days and diplomats speaking of a shouting match between Kerry and Zarif.

They are seeking to end a 13-year standoff with Iran over its suspect nuclear program with a deal which will block its pathways to developing a nuclear bomb in exchange for lifting biting global sanctions.

The terms of a 2013 interim accord under which Iran has suspended much of its uranium enrichment in return for some sanctions relief were extended to Monday in a bid to overcome a deadlock.

The negotiators missed a Friday morning deadline set by the US Congress for an expedited 30-day review of the deal. Any deal sent to Congress before Sept. 7 would now be subject to a 60 day review period, accounting for lawmakers' summer recess.

US officials had previously expressed concern that the extended review would provide more time for any deal to unravel, but have played down that risk in the last few days as it became increasingly likely that the deadline would not be met.

On Thursday, Kerry suggested Washington's patience was running out: "We can't wait forever," he told reporters. "If the tough decisions don't get made, we are absolutely prepared to call an end to this."

Ali Akbar Velayati, top adviser to Iran's Supreme Leader Ayatollah Ali Khamenei, called Kerry's remarks "part of America's psychological warfare against Iran".

A senior Iranian official speaking on condition of anonymity said the United States and the other powers were shifting their positions and backtracking on an April 2 interim agreement that was meant to lay the ground for a final deal.

"Suddenly everyone has their own red lines. Britain has its red line, the US has its red line, France, Germany," the official said.

Back in Iran, Friday provided a reminder of the depth of more than three decades of enmity between Iran and the West that a deal could help overcome.

Iranians rallied for the last Friday of the fasting month of Ramadan, observed in Iran as "Qods Day" or "Death to Israel day", to show support for Palestinians, protest against Israel and chant slogans against the "Great Satan" United States.