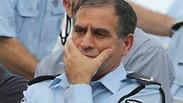 Brig.-Gen. Efraim Bracha
Photo: Motti Kimchi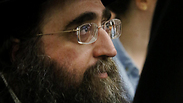 Rabbi Yoshiyahu Pinto
Photo: Shaul Golan
The wicked prosper
Op-ed: Police investigator Efraim Bracha, who did his duty as a cop by reporting Rabbi Pinto's attempt to bribe him, was driven to suicide by the slander Pinto and his associates spread about him, while Pinto himself will no doubt get off easy and return to his job as God's spokesman.
Brig.-Gen. Efraim Bracha, the head of the Police Anti-Fraud Unit, ended his life on Sunday morning. It deeply shocked the Israel Police and the Attorney General's Office. Friends of the deceased, commanders, and colleagues, all asked themselves whether they acted appropriately, whether their actions or failures contributed to his decision to commit suicide. Similar questions arose among journalists who worked with Bracha, mostly journalists who covered the Rabbi Pinto affair. Was a question they asked or a story they wrote the last straw?

Bracha didn't leave a note. We don't know what he was thinking in his final days about his colleagues in the police and the Attorney General's Office, about his friends and his neighbors. It's reasonable to assume he killed himself over the Pinto affair: Pinto is the key. The rest is all just speculation.

It all starts with a handful of talented, charismatic rabbis who made a name for themselves as well-connected people, secret advisors and miracle workers. Some boasted distinguished lineages. Others were just very clever. Politicians, businessmen, high-ranked police and army officers, all knocked on their doors. The reasons were complex: Some believed, in their foolishness, that a blessing from a rabbi would cleanse them of their sins and bring them happiness and wealth; some counted on the sage advice the rabbi would give, or on the network of connections and PR he created around him; and there were those who viewed the rabbi as a butterfly, passing nectar from one flower to the next. A good word from him will move them up the ranks, information that reaches his ears will prevent them from encountering trouble.

Bracha came to Rabbi Pinto as a religious man. He believed. More senior officers came to Pinto for other reasons.

Over the years, I kept asking police officers why they were letting themselves and others wander under the shadows of the babas. After all, anyone with a pair of eyes can see that their quick rise to wealth is not coincidental. At best, their wealth comes from cash donations they never issued invoices for. At worst, it is based on other criminal offenses.

The answer I got was that the police cannot stop one of its officers from going to a rabbi he believes in. What they didn't say was that this was simply what everyone does: Ministers who visit rabbis' courts, from Netanya to Netivot, whisper in their ears and listen to what they have to say. The babas are turning, in practice, into a part of the system. They are involved with every high-ranked police officer, and every high-ranked police officer is involved with them.

It took a long time for Commissioner Yohanan Danino to issue an order barring uniformed officers of frequenting rabbis' courts. It's a good thing he issued that order, but a shame he waited. For Menashe Arviv, and not to mention Efraim Bracha, it was too late. Rabbi Pinto has already determined their fate.

Rabbi Pinto is the head of a crime family. A former government official, who knew Pinto in his golden days, told me when it was that he decided to cut all ties with the rabbi: It was as he found himself during an event at Pinto's court standing in between former justice minister Yaakov Ne'eman and Yossi Harari, the head of the Pardes Katz criminal gang. At first, people were fooled: 'It's not Pinto,' they said. 'He's studying Torah all day. It's the criminals who found their way to him.' Later, they realized their mistake.

Pinto tried to bribe Bracha. Bracha could have taken the money, or dodged the offer. He chose the third option - he chose law and justice, his duty as a cop - and reported Pinto's attempts to bribe him. For that, he deserves a lot of respect.

Pinto and his people responded in their own way: They flooded the State Attorney's Office and the media with a slew of allegations against Bracha. They didn't mind spreading lies and gossip. They spared no punches. Among others, they also came to me. What they told me was examined and disproved. After talking to them, I felt a strong urge to take a shower.

Journalists' job is to investigate information that is of interest to the public and raise questions. The State Attorney's job is to probe. The price is publicity. Sometimes this is a painful price to pay, but when the allegations are against such a high-ranked police officer who has such a sensitive job, it cannot be avoided. An investigative system cannot work under the threat of suicide, because that would paralyze it.

I'm having a hard time believing that Bracha committed suicide because of the negative reports that came from Yoav Yitzhak, an owner of a website. Bracha obviously knew who Yoav Yitzhak was, who was feeding him, and what he was worth. The thing that really mattered was the reaction of people on the street, their behavior towards his family, the slander on social media.

The State Attorney's Office answered my questions about their relationship with Bracha. It would appear that he got all of the backing they could give him. They were obligated to investigate the slander that reached them, but one of the more outrageous things in the State Attorney's work is their tendency to leave cases open forever. The shadow of a criminal investigation accompanies those being investigated for many years, putting a stain on their good name and disrupting their lives. I don't think that was the case with Bracha.

What should bother them is the deal they signed with Pinto. Attorney-General Weinstein is convinced that this was one of the best deals he has ever made. State Attorney Shai Nitzan feels the same. Pinto is supposed to serve a year in jail. If they hadn't signed the plea, he would've been sentenced to two-three years at most, or perhaps even escape punishment altogether. Part of the rewards to the deal is Pinto informing on Menashe Arviv, the former commander of the police's Lahav 443 unit.

Arviv has yet to be indicted. He is considered "under investigation." As for Pinto, unless he finds some way to weasel his way out of this, he will pay his debt to society by spending eight months in jail, tops. Unpleasant, but not too bad. There won't be any additional investigations. When he gets out, he will return to his former job, as the Almighty's spokesperson. If Shula Zaken is allowed to be a spokesperson, Pinto certainly can. The faithful will continue dancing around him, while the criminals will continue with their affairs, Pinto's affairs.