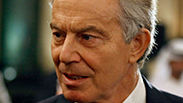 Former Quartet envoy Tony Blair is reportedly mediating between Israel and Hamas in talks over the two Israeli citizens held in Gaza, a senior Hamas official told Russian news agency Sputnik late Saturday night.

Avraham Mangisto from Ashkelon crossed the border into Gaza in September 2014 and has not been seen since. Another citizen, a Bedouin from the Negev, crossed the border into the Strip in April and he too has been missing since.

The Hamas source said Blair held an official meeting with the Hamas leadership to discuss the issue and try to resolve it. He met with Hamas leader Khaled Mashal in Doha, Qatar at least twice in recent months.

The source also denied reports that Germany was mediating these talks. An Israeli official, meanwhile, refused to reveal the international mediator's identity or nationality, but said that unlike the deal to release Gilad Shalit, Egypt is not serving as mediator.

Shortly after a gag order was lifted allowing the media to report about the two Israelis' disappearance into the Strip, Israeli security officials were quoted as saying there will be no prisoner release in return for Mangisto and the Bedouin man.

Mangisto was seen walking on the beach, heading south. He reached the Zikim beach area, and continued walking south until he crossed an electric fence that divide Israel from Gaza. The fence starts on the beach and continues into the water.

Security forces stationed in the area noticed the man after he had crossed the border, and forces were immediately dispatched to the area, including a helicopter and ground troops. Mangisto continued on his path into Gaza and never returned.

Prime Minister Benjamin Netanyahu and Defense Minister Moshe Ya'alon have both said Hamas was responsible for the well-being of the two Israeli citizens.

However, Hamas has denied having Mangisto, with a Palestinian official saying he was held by Hamas in Gaza at one point but was released after they realized he was not a soldier. According to the source, Hamas announced that Mengisto had left Gaza through tunnels in Rafah and continued on to Egypt, and that he is no longer in the Strip.

Egypt, meanwhile, denies that Mangisto has entered its borders.

Lior Lotan, the prime minister's envoy on hostages and missing persons, told the Mangisto family Israel had strong intelligence from the first two days after Avraham entered the Strip indicating that he was captured by Hamas' security forces, but that his location has been unknown since.

Lotan asserted that Hamas does have Mangisto, despite denying it. "We turned to Hamas in many ways and used leverages. When relatives of senior Hamas officials wanted to enter Israel for medical treatment we told them, 'No, give us information about Avra,' and it didn't work."