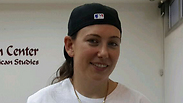 Gill Rosenberg returned to Israel on Sunday, after spending the months since November fighting ISIS alongside Kurdish forces in the Middle East.

In an exclusive conversation with Ynet, Rosenberg says that she left Syria in January and moved to Iraq, from which she took off for Paris a week and a half ago. Now she is back in Israel.

"It's good to be home. I'm here fore now, and don't plan on going back there anytime soon," she says.

The Shin Bet confirmed that Rosenberg was questioned. "In the month of November 2014, there was a report that Gill Rosenberg joined the Kurdish rebels in order to fight ISIS," said a Shin Bet source. "Rosenberg was questioned and released upon her return, as a result of the reports."

Ynet interviews Gill Rosenberg (צלמים: אלי סגל יוגב אטיאס)

The person responsible for bringing her back to Israel was the American–Israeli businessman Moti Kahana, who has provided aid to the Syrian opposition on several occasions since the beginning of the civil war four years ago.

Of the combat in Syria, Rosenberg said it was difficult to witness the humanitarian crisis there. "It's a country at war," she says. "There are three million refugees scattered across the country, most of them women and children."

According to Rosenberg, the humanitarian crisis is deepening, and the effects of the war on the civilian population are evident. "There is immense suffering and its difficult to see them in that situation," she says.

In November, Rosenberg , who made aliyah from Canada in 2006, made her way through Jordan's international airport to the Irbil airport, in Iraq's Kurdish autonomous area, from which she entered Syria.

On November 9, she uploaded images from the Kurdish region of Syria and wrote, "In the IDF (Israeli army), we say 'aharai', After Me. Let's show ISIS (Islamic State) what that means." A friend wrote, "Take care of yourself, friend. You are one strong woman, and you'll destroy the Islamic State."
'I wasn't sure I would come back to Israel'
A few weeks before her trip back, rumors began spreading that she had been captured by ISIS. A day later she beat back the rumors in a Facebook post, saying, "Guys, I'm totally safe and secure." Rosenberg added that she had no access to internet or means of communication.

Rosenberg explains that she felt the need to act on behalf of those who suffered because of ISIS, mainly woman and children who were raped and forced into sexual slavery. "As Jews we say never again, as far as a Holocaust or genocide," she says. "I don't think there is any difference between Jews and anyone else, never again means never again for anyone.

"For me, I felt really strongly about what was happening there, and I felt that I could do something. I wanted to contribute in any way that I could."

Rosenberg says she plans to take time off from being a fighter and turn her attention to a more political track; "There are plans in the works to maybe switch to more of an activist role as opposed to being a front line fighter, raising awareness about the Kurdish cause, and the minorities in Iraq like the Christians and Yazidis, who are being persecuted."

Rosenberg added that she left the area for political reasons, saying that peoples attitudes' towards the US and Israel and increasing Iranian advances warranted her departure.