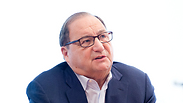 ADL National Director Abraham Foxman. 'Malicious myths'
Photo: Amitai Roderman
The Anti-Defamation League (ADL) has urged the South Korean government to condemn pernicious anti-Semitic stereotypes that surfaced in news stories concerning the future of a South Korean construction conglomerate and the role of two New York-based financial companies in speaking out against a proposed merger.

Money Today, a mainstream Korean publication, noted that the proposed merger between Samsung C&T, a construction company, and Cheil Industries, was being challenged by two New York based financial companies "whose key shareholders are Jewish."

Shared Interest

Many of 50 million South Koreans read collection of Jewish writings at home in bid to become 'geniuses like the Jews,' ambassador explains.

The newspaper reportedly wrote: "According to the finance industry, the fact that Elliott (Associates) and ISS are both Jewish institutions cannot be ignored. Elliott is led by a Jew, Paul E. Singer, and (International Shareholder Services) is an affiliate of Morgan Stanley Capital International (MSCI), whose key shareholders are Jewish. According to a source in the finance industry, Jews have a robust network demonstrating influence in a number of domains."

"Anti-Semitic stereotypes about Jews and money have a long and dark history, sowing distrust and other negative feelings towards Jews," said ADL National Director Abraham Foxman. "These malicious myths are among some of the most widely held stereotypes about Jews, and are far from harmless."

In ADL's recent Global 100 poll of anti-Semitic attitudes around the world, conducted in 2014, more than half of the adult population of South Korea, about 53%, agreed with a majority of 11 classical stereotypes about Jews. The poll also found that 59% of South Koreans agreed with the statement, "Jews have too much power in the business world."

"We were shocked by the results of our polling on anti-Semitism in South Korea, as were many representatives of their government," Foxman said.

Statements in two other Korean publications included remarks such as "Jews are known to wield enormous power on Wall Street and in global financial circles.

It is a well-known fact that the US government is swayed by Jewish capital" and "ISS's opposition to the merger can be interpreted along the lines of Jewish alliance. Jewish money has long been known to be ruthless and merciless."

"Sadly, this controversy reflects the attitudes in our polling results," Foxman added. "Anti-Semitism is a concern in South Korea and the government needs to publicly condemn these ugly expressions and educate people as to why these stereotypes are dangerous and false."