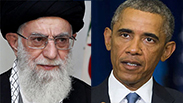 Ayatollah Khamenei and President Obama
Iran's Foreign Minister Mohammad Javad Zarif said Monday evening that a nuclear deal with world powers will not be signed on Monday, once again missing a deadline set by the negotiating sides.

Zarif said talks will not end by the midnight deadline and will continue into Tuesday. Meanwhile, a ministerial meeting that was reportedly due to take place at 9 pm Vienna time on Monday has also been postponed.

Iran's President Hassan Rouhani was scheduled to speak about the nuclear talks on Iranian television on Monday evening, and it is currently unclear if his speech will continue as planned.

In Israel, Prime Minister Benjamin Netanyahu, who has been a vocal opponent of the deal for about two decades, clarified that Israel never meant to sabotage the talks.

"We never committed ourselves to preventing an agreement, certainly not one that the major powers are ready to sign at any price. We did commit ourselves to prevent Iran from arming itself with nuclear weapons – and indeed, were it not for our efforts over the years, Iran would already be able to develop atomic bombs," he said at the Knesset on Monday afternoon.

The prime minister criticized world powers for being willing to sign an agreement "at any price," saying, "Even over the weekend, as Iran continued to receive more and more concessions at the negotiating table, Iranian President Rouhani led a march of hatred in the streets of Tehran in which the masses cried, 'Death to America! Death to Israel!'"

"If the concessions continued even after these unequivocal calls for the destruction of those conducting the negotiations, it seems that there are those who are ready to make an agreement at any price – and this bad agreement is unavoidable," he added.

Meanwhile, an Israeli security source warned against Iran's "tricks and shticks" that he said would surely follow the "inconceivably dangerous" deal.

"The West is leading problematic negotiations that will result in failure," said the source. "They have all the tools and capabilities to lead Iran down the correct path.

"Iran entered negotiations at a disadvantage, economically strangled and desperate for an agreement. Instead of pushing them further, leading to the total freeze of the nuclear program, without tricks and shticks, the West acted like amateurs and gave Iran a gift."

Defense Minister Moshe Ya'alon also criticized the impending deal, calling it a "historic mistake" filled with "unprecedented concessions."

According to Ya'alon, Saudi Arabia, Egypt and Turkey would all feel an urgent need to develop their own nuclear options as a result of the impending agreement.

Energy Minister Yuval Steinitz told Army Radio he was expecting an agreement on Monday or Tuesday. He reiterated Israel's opposition to the deal.

"What is being drafted, even if we managed to slightly improve it over the past year, is a bad agreement, full of loopholes," he said. "If we call it by its true name, they are selling the world's future for a questionable diplomatic achievement in the present."
Unexpected disputes
A temporary nuclear deal between world powers and Iran is set to expire at midnight Monday Vienna time, and diplomats had hoped to complete and announce a final agreement before day's end. But they warned there was no guarantee, and some said the talks could stretch into Tuesday despite little appetite from anyone for another extension.

Some diplomats said that several issues still needed final agreement: Disputes over attempts to probe Tehran's alleged work on nuclear weapons, Iranian demands that a UN arms embargo be lifted and that any UN Security Council resolution approving the nuclear deal no longer describe Iran's nuclear activities as illegal.

IAEA chief Yukiya Amano returned from Tehran and talks with Iranian leaders early this month saying a new plan had been drawn up to aid his probe. And diplomats had cited progress within the Vienna negotiations on the issue. But the debate about how much access UN experts should be given has publicly continued, with top Iranian officials saying military sites and Iranian nuclear scientists would be off limits to IAEA monitors.

Iran insists it never worked on such weapons. It may be opposing any mention of concessions on the matter in the final, public documents describing the overall nuclear deal.

With few signs that Iranian or US negotiators were prepared to give ground, the high-stakes game of brinksmanship looked set to force a fourth extension of talks since the current round began 17 days ago.

French media reports cited one Iranian official claiming that 99 percent of the 100-page agreement had been completed, paving the way for the foreign ministers' signatures on Monday.

According to the official, negotiators had yet to agree on the expiration date of the agreement and precise dates to end sanctions on Iran.

"There should not be an extension in the talks," Iranian Foreign Minister Mohammad Javad Zarif said in remarks carried by Iran's official IRNA news agency. He called for diplomats to continue negotiating as long as necessary.

Grim-faced foreign ministers from the six countries negotiating with Iran declined to answer questions about another possible prolongation of discussions as they gathered for a group meeting at the 19th-century Viennese palace hosting the talks.

One diplomat described the latest delay as unexpected, saying negotiators expected to resolve the remaining disputes by late Sunday.

The Associated Press and Moran Azulay contributed to this report.