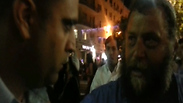 Photo: Jerusalem Stands up to Racism
Photo: Jerusalem Stands up to Racism
The far-right fringe group Lehava has been increasing its presence on the streets of Jerusalem lately, following months of keeping a low profile while police were investigating charges of incitement.

Members of the group regularly march through the center of the capital, holding anti-Arab banners and chanting "Arabs beware – our sisters are not up for grabs" and "Jewish girls for the Jewish people." They also chant the praises of the late Rabbi Meir Kahane, whose Kach party was labeled racist by the High Court and subsequently outlawed.

The members of Lehava, a self-styled "anti-assimilation" pressure group, often clash with Arabs and left-wing protesters, as they did on Thursday. In a video filmed by the group "Jerusalem Stands up to Racism," a marcher is seen shouting at a counter-protester: "Do you want your children to marry with Arabs? Go to Gaza then!"

Police were called up to the scene, and detained Lehava chairman, Benzi Gopstein, on suspicion of disturbing the peace. Gopstein, for his part, said he would sue the police for unlawful arrest. Police spokespersons have said that Lehava do not seek prior approval, which is required by law, for their gathering.

Members of "Jerusalem Stands up to Racism" have asked the police and the Jerusalem municipality to prohibit the marches, saying they stir up racist violence and terrorize Arab passers-by. Lehava have claimed in response that their activity is perfectly lawful.

Lehava in Jerusalem. (צילום: ארגון להב"ה, "ירושלים לא שותקת לגזענות")

"Quite often, it results in physical violence against Palestinians," left-wing activist Aviv Tatarsky told Ynet. "Palestinians are beaten in Jerusalem weeks on end. Violence in the city is on the rise. Palestinian families come to the city center during Ramadan and feel threatened. Arab taxi drivers call me up in the middle of the night and tell me that they fear for their lives."

Tatarsky says that the authorities are wrong to fight Lehava at the legal level. "Those who want to try and prevent assimilation are welcome to do it, but this is a violent gang of dozens of people who incite to racist – and the mayor and leading rabbis say nothing. Why isn't it at the top of our agenda?"

Gadi Gvaryahu, chairman of the left-wing Tag Meir organization, accused Lehava of promoting a rhetoric that dehumanizes non-Jews. "Their incitement led to the killing of (16-year-old Palestinian) Mohammed Abu Khdeir (last year)," he said.

Gopstein claims that it's the left-wing organizations that fan the flames, and that it is absolutely necessary to fight against assimilation.

"Recently, we were contacted by Jewish women who said they were harassed in Jerusalem's nightlife areas," he said. "This is why we decided to step up our visibility in the city. We make sure members of ethnic minority groups refrain from harassment, and raise awareness about the danger of assimilation. Sadly, radical left-wing provocateurs have started clashing with our activists. And the authorities, instead of dealing with harassments by Arabs and provocations by left-wingers, picks on us."

Adv. Itamar Ben-Gvir, Lehava's legal advisor, said their critics are only trying to silence them.

"They have to understand that Israel is a democracy and that there's free speech," he said. "Lehava's activity is entirely lawful, as has been repeatedly confirmed by police. The Jerusalem District Court has recently said that campaigning against assimilation isn't racist."

"The better the leftists understand it the better – and the minute their daughter assimilates, they should call Gopstein," he added.

Other activists have launched a less confrontational approach to counter Lehava. Such is "Talking at the Square," a group that seeks to engage teenagers from the margins of society, to prevent them from being drawn to groups like Lehava.

"We realized that we need to engage them," said activist Hillel Fischer. "Quite often they are young and confused children who seek attention. And we'd rather they get it from us than from Gopstein."

The Jerusalem Police confirmed in response that Lehava's events were not coordinated with them.

A spokesperson for the Jerusalem municipality said that "the mayor wholly condemns any expression of racism or violence against people of all faiths, and the municipality liaises with the police in order to crack down on potential acts of racist violence."

"As a complementary measure," the municipality spokesperson added, "we seek to curb violence and racism through formal and informal educational and welfare channels, in collaboration with NGOs, parents' organizations and civil society initiatives."