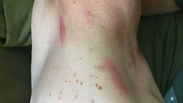 The soldier's self-inflicted injuries
Photo: Israeli Christians Recruitment Forum
A Christian IDF soldier from Yafa an-Naseriyye admitted on Monday to lying to the police when he claimed he was attacked by Muslim Arabs because he joined the Israeli army.

The soldier told police investigators on Sunday that he was attacked at a bus stop in Nazareth Illit while on his way back to base, dressed in his military uniform.

He arrived at the Poriya Medical Center in Tiberias in the evening hours with bruises all over his body and was released after midnight.

But when the soldier was questioned by police on Monday, he confessed to lying about the attack and admitted to intentionally wounding himself.

The soldier was held for questioning on suspicions of giving a false statement to police and of obstruction of justice, and his case will be transferred to the military police for further investigation.

The soldier initially claimed that a group of youths from Nazareth's eastern neighborhood walked towards him and yelled profanities at him. He said he started running towards a nearby grove, but they caught him and beat him.

After learning the soldier lied, the Israeli Christians Recruitment Forum said: "We regret that the soldier chose to take advantage of a real problem of violence that exists, and which Christian soldiers deal with, for his own unknown personal interests.

"Over the past six months, there have been several real cases of violent assaults against Christian soldiers and it's a shame the issue is being brought to light with a fictional case that could cause damage in the future. Nonetheless, we hope that in light of the public discussion and media coverage, the different authorities get into the thick of things and work to put an end to this phenomenon of violence against Christian soldiers."