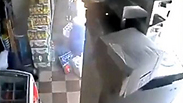 Palestinian man injured in confrontation with Border Police
A Palestinian man lost an eye in clashes with Border Police forces carrying out an arrest Sunday in Shuafat in East Jerusalem.

A grocery store security camera caught the violent clash, in which Nafiz Zamiri, 50, was wounded after being hit with riot dispersal measures used by Border Police.

Since then, Zamiri has been hospitalized in the ICU at the Hadassah Medical Center in Jerusalem's Ein Kerem in moderate condition.

Palestinian man loses eye in confrontation with Border Police

The clashes began when a Palestinian mob started throwing stones at Border Police forces who came to arrest a suspect. Zamiri was apparently hit by a sponge grenade.

In the video, he is seen running toward the grocery store and then he collapsing after being hit in the face. It also shows two stun grenades being fired at the grocery store, one of which exploded outside the store and one of them close to where Zamiri stood.

Jerusalem Police said the forces, that were pelted with stones by the crowd, were acting to disperse the rioters: "Trying to hurt an officer is a serious offense. Police will continue to enforce the law, and will act uncompromisingly and with determination against any attempt to harm police officers who are performing their job."

The Association for Civil Rights in Israel said Monday that "Since the new sponge grenades came into use, the number of serious wounds, fractures and loss of eyes have increased. We turned to the police a few months ago demanding they stop using them and carry out a thorough review of their safety and the circumstances in which they should be used, as well as their suitability to serve as a means of riot control."