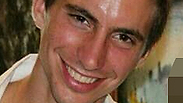 Tzur Goldin, whose brother Hadar Goldin was killed in Gaza and then captured by Hamas, made an emotional plea to pro-Israel Evangelical Christians on Monday night, urging them to help him bring his brother to burial in Israel.

"I am Tzur Goldin, twin brother to 1st.-Lt. Hadar Goldin. Hadar Goldin was killed and kidnapped by Hamas terrorists and whose dead body is being held ransom inside Gaza. I am here today to bring my brother home," he said at a conference in Washington.

Alongside his plea for the return of his brother, Goldin urged his listeners to raise their voice and call for the reconstruction of Gaza, which suffered intensive damage during the 50-days of fighting last summer.

Tzur Goldin in plea to bring his brother home

"Like me, Hadar Goldin was an officer in the special forces of the IDF. Like me, Hadar Goldin was a commander of Israel's sons. Like me, Hadar knew combat from a very young age. Like me, Hadar went forward not to conquer another people, but to bring safety to his own people. But unlike me, Hadar Goldin never returned from his last battle," Tzur continued.

He said both he and his twin brother believed in courage and humility - two words the two hand-stitched onto their rifle straps.

"Courage and humility are what he carried into the battle field of Operation Protective Edge last summer. Hadar served at the tip of the spear of all forces during our defensive operation inside Gaza. He did it with courage, and with humility."

The opposite of these positive qualities are cowardice and depravity, which Tzur described as "the hallmarks of the crimes carried against my brother Hadar, my parents, my family, our soldiers, and all the house of Israel."

During last summer's war in Gaza, he recounted, after three weeks of blood and sacrifice, Israel agreed to a ceasefire requested by the US.

"It was Friday, August the 1st, 2014," he said. "The end of war brings with it a certain sense of relief. Mine was short-lived. A mere 13 minutes after learning of the ceasefire, I received direct orders with the following update: Hamas had launched an ambush against three of our soldiers, despite the ceasefire. Two of the soldiers had been killed. The third soldier had been kidnapped. The kidnapped soldier was my brother, Hadar Goldin. Hadar was kidnapped by way of an ambush that exploited the goodness of our soldiers and demonstrated the depravity of Hamas. The terrorists dragged the body of my dead brother below ground into a tunnel from which he has never been redeemed, plunging him and my family from the light into a darkness from which I, my family, my nation, are determined to emerge."

Goldin said that "what Hamas terrorists did and are doing by holding my brother's body, is a crime. It is an outrage against humanity. And I'm not going to accept it. I reject it, and all good people must reject it with me."

He called on "all people of conscience, all people who value human life, whether they be Israeli or American, Jewish or Christian, or of no faith whatsoever" to "fight against this evil," and was met with roaring applause.

He slammed Hamas' "cynical demands" in return for the release of his brother's body, adding "we have demands too."

"I come here to deliver a message today to all who will listen," Goldin said.

"It is a message directly from the parents of Hadar to every parent in this room and beyond. The body of Hadar Goldin must be returned to his family," he said to continuous applause.

The 24-year-old said his twin brother's death turned him into a much older man, quoting from Psalms 37:25, "I have been young, and now am old; Yet have I not seen the righteous forsaken."

He went on to say that his brother "was the definition of a righteous man," pleading "Please help me to ensure that he shall never ever be abandoned."