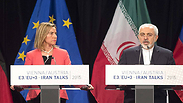 EU foreign policy chief Mogherini with Iran's Foreign Minister Zarif
After 18 days of intense and often fractious negotiation, world powers and Iran struck a landmark deal Tuesday to curb Iran's nuclear program in exchange for billions of dollars in relief from international sanctions - an agreement designed to avert the threat of a nuclear-armed Iran and another US military intervention in the Muslim world. Here are the main points.
Enrichment: Iran will reduce the number of uranium-enriching centrifuges it has from almost 20,000 to 6,104, and reduce the number of those in use from nearly 10,000 to half that. It also commits to using only its current models, rather than more advanced centrifuges it had wanted to install.
Stockpile: Iran committed to reducing its stockpile of enriched uranium from about five tons to 300 kilograms (less than 700 pounds) for 15 years. US officials say that at this level it would take Iran more than a year to enrich enough uranium for a nuclear weapon.
Underground site: Iran committed to convert its Fordow enrichment site - dug deep into a mountainside and thought impervious to air attack - into a research center.
Transparency: Iran will give more access to its nuclear program to the UN nuclear agency. If that agency identifies a suspicious site, an arbitration panel with a Western majority will decide whether Iran has to give the agency access within 24 days.
Reactors and reprocessing: Iran must redesign its nearly built reactor at Arak so it can't produce plutonium for nuclear weapons.
Sanctions: All US and European Union nuclear-related sanctions will be suspended after experts have verified that Iran is hewing to its commitments. If at any time Iran fails to fulfill its obligations, those sanctions will snap back into place. An arms embargo will stand for five years and restrictions on Iran's ballistic missile programs for eight. Iran will get some access to currently restricted sensitive technologies.
Iran's compromises
Iran agreed to the continuation of a UN arms embargo on the country for up to five more years, though it could end earlier if the International Atomic Energy Agency definitively clears Iran of any current work on nuclear weapons. A similar condition was put on UN restrictions on the transfer of ballistic missile technology to Tehran, which could last for up to eight more years, according to diplomats.
Washington had sought to maintain the ban on Iran importing and exporting weapons, concerned that an Islamic Republic flush with cash from the nuclear deal would expand its military assistance for Syrian President Bashar Assad's government, Yemen's Houthi rebels, the Lebanese militant group Hezbollah and other forces opposing America's Mideast allies such as Saudi Arabia and Israel.
Iranian leaders insisted the embargo had to end as their forces combat regional scourges such as the Islamic State. And they got some support from China and particularly Russia, which wants to expand military cooperation and arms sales to Tehran, including the long-delayed transfer of S-300 advanced air defense systems - a move long opposed by the United States.
Another significant agreement will allow UN inspectors to press for visits to Iranian military sites as part of their monitoring duties, something the country's supreme leader, Ayatollah Ali Khamenei, had long vowed to oppose. However, access isn't guaranteed and could be delayed, a condition that critics of the deal are sure to seize on as possibly giving Tehran time to cover up any illicit activity.
Under the accord, which runs almost 100 pages, Tehran would have the right to challenge the UN request and an arbitration board composed of Iran and the six world powers would then decide on the issue. The IAEA also wants the access to complete its long-stymied investigation of past weapons work by Iran, and the US says Iranian cooperation is needed for all economic sanctions to be lifted.
IAEA chief Yukiya Amano said Tuesday his agency and Iran had signed a "roadmap" to resolve outstanding concerns, hopefully by mid-December.
Implementation of the Iran nuclear agreement
Following is a summary the timeline for the implementation of the Joint Comprehensive Plan of Action agreed between Iran and six major powers on July 14. There are no specific dates. It begins "upon conclusion of the negotiations".
Finalization Day:
Iran and the major powers "endorse" the plan, known as JCPOA.

The "promptly" submit it to the United Nations Security Council for adoption "without delay".

The European Union will "promptly" endorse the resulting United Nations Security Council resolution.

Iran and International Atomic Energy Agency (IAEA) will start developing arrangements to implement all transparency measures so that they are ready for Implementation Day.

Adoption Day:
Takes place 90 days after endorsement by the UN Security Council, or earlier by mutual consent of all the parties.

JCPOA participants will begin making necessary arrangements and preparations for the implementation of commitments.

Iran notifies IAEA that it will apply the Non-Proliferation Treaty's Additional Protocol (enhanced inspection regime) provisionally with effect from Implementation Day.

Iran starts implementing commitments relating to past nuclear activities.

EU will adopt a regulation lifting nuclear-related sanctions with effect from Implementation Day "simultaneously" with IAEA verification of agreed nuclear-related measures by Iran.

The president of the United States will issue sanctions waivers to take effect on Implementation Day.

Implementation Day:
Occurs when IAEA verifies Iran has complied with nuclear-related measures.

The EU suspends or terminates nuclear-related sanctions specified in Annex II of the JCPOA

The United States ceases application of nuclear-related sanctions specified in Annex II.

The United Nations terminates sanctions.

Transition Day:
Takes place eight years from Adoption Day, or earlier upon a report from the IAEA director-general stating the IAEA has reached a conclusion that all nuclear material in Iran remains for peaceful activities.

The EU terminates any remaining sanctions.

The United States terminates or modifies remaining sanctions including seeking necessary legislative changes.

Iran will ratify Additional Protocol on enhanced inspections.

Termination Day:
Takes place 10 years from Adoption Day provided no UN sanctions have been reinstated.

UN will pass resolution approving termination of JCPOA.

The UN Security Council "would no longer be seized of the Iran nuclear issue", or close the file.

Reuters contributed to this report.