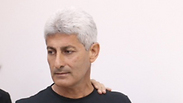 The outgoing mayor of Or Yehuda was charged with a number of crimes, which included statutory rape, using a position of power for sexual gain, forced sexual acts, sexual harassment, theft, and fraud.

Police sources said that David Yosef reigned using an 'atmosphere of terror', saying the mayor "was able to instill fear and spread terror in order to silence the people surrounding him."

Anyone who dared argue with him was met with a violent reaction: "He would throw people out like trash, just firing them. That's how he kicked people out of their positions." Collecting the women's testimonies took an unusually long time, due to their fear of speaking out against the mayor. "I am very disappointed that I was silent, that I froze," one woman told investigators.

The prosecution described an incident in which a young woman who was about to be drafted into the army met Yosef during an event in which the council was meant to accept an education prize. During the event the young woman sat and ate a cob of corn. Yosef purportedly walked up to her, bent over her neck, and began rubbing her shoulders and hair, whispering in her ear: "Can I be a replacement for that corn you're eating?" The alleged victim froze in her place, immediately became pale, and felt great discomfort and embarrassment.

In another instance, the prosecution described a meeting between Yosef and a woman who entered his office. "We are alone, there is no one here to be jealous, let's do it here and now on this table," the mayor allegedly said. The woman refused his advances and said she was not some cheap woman, but the accused proceeded with his advances, she said, pointing to his genitals and saying: "This down here is strong, you want it?"

In another case described in the indictment, Yosef had arrived at the home of a grieving family. During the 'Shiva' the niece of the deceased offered him a cold beverage, and in response Yosef allegedly told her that she was pretty and had a nice smile. The young woman responded that she was married, buthe did not take the hint, and allegedly said, "Is everything functioning down there? The stitches? Is it open for business?" The alleged victim fled to the kitchen upon hearing his comments, and stayed there crying until he left.

Many woman feared speaking out and exposing the whole story, and were so scared that they later asked police whether there were enough complaints to be able to withdraw theirs. Other women feared that their families would suffer as a result of their complaints.

The pace of the investigation was intense, and 180 people were questioned within one month. "At first we were sure that this case was all sex crimes," according to police sources. "However, we slowly understood that there were cases of theft as well, conducted to maintain his lifestyle and please women." As of Tuesday morning, the case included 100 witnesses and 15 plaintiffs.

According to the indictment against the mayor, he had assembled the city council in June of 2013, and during the meeting had offered to name one of the city's streets "Bali." It later became evident that Bali was the nickname he had given to one of his lovers. "I will give you my life and name a street after your name," he told the young woman.

The mayor's lawyer, Avi Odiz responded; "This is a weird and preposterous statment, seeing as the police both saw and heard that the mayor has a death announcement hanging in his office of the deceased Nissim Bali, a legendary sports teacher, who served the city of Or Yehuda for 50 years. A year after his death it was decided to commemorate his memory by naming a street after him. The attempt by this indictment to insinuate that the street was named after some woman is ridiculous, populist and ludicrous statement. "