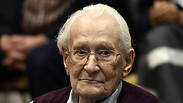 Groening in court
Photo: AFP
A 94-year-old German man who worked as a bookkeeper at the Auschwitz death camp was convicted on Wednesday of being an accessory to the murder of 300,000 people and was sentenced to four years in prison, in what could be one of the last big Holocaust trials.

Oskar Groening did not kill anyone himself while working at the notorious camp in Nazi-occupied Poland, but prosecutors argued that by sorting the bank notes from trainloads of arriving Jews he helped support the regime responsible for mass murder.

Groening testified that he guarded prisoners' baggage after they arrived at Auschwitz and collected money stolen from them. Prosecutors said that amounts to helping the death camp function.

Presiding Judge Franz Kompisch said Groening had decided to be part of the Nazis' machinery of death.

Groening sat expressionless as the verdict was read and listened attentively for more than an hour and a half as the judge detailed the ruling, occasionally sipping from a bottle of water. He then walked out of the courtroom without talking to reporters.

Groening, who has been on trial since April, has admitted moral guilt but said it was up to the court to decide whether he was legally guilty. When the trial began, he said he expected an acquittal. Groening's lawyer Hans Holtermann says his client's actions did not go far enough to make him an accessory to murder and until recently the German justice system agreed with him.

He said earlier this month that he could only ask God to forgive him as he was not entitled to ask this of victims of the Holocaust.

The charges against Groening related to a period between May and July 1944 when hundreds of thousands of Jews from Hungary were brought to the Auschwitz-Birkenau complex in Nazi-occupied Poland. Most were immediately gassed to death.

In an extensive interview with German magazine Der Spiegel in 2005, Groening said he felt "nothing" when he saw Jews being taken to the gas chamber.

"If you are convinced that the destruction of Judaism is necessary, then it no longer matters how the killing takes place," he said, describing his feelings as a young SS officer.

In April, Auschwitz survivor Eva Kor caused some controversy when she approached Groening, embraced him, shook his hand and forgave him, later explaining that they were just "two old people reaching out." Kor explained that she had decided to forgive Groening, but not the Nazi criminals.

"I don't forget what they have done to me," Kor explained. "But I am not a poor person – I am a victorious woman who has been able to rise above the pain and forgive the Nazis.

"I know many people will criticize me for this photo, but so be it," she wrote on Facebook after sharing a photograph of her and Groening holding hands. "It was two human beings 70 years after it happened. For the life of me I will never understand why anger is preferable to a goodwill gesture."