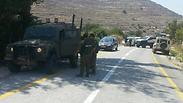 Scene of the attack
Photo: Tazpit
A Netzah Yehuda Battalion soldier was stabbed by a young Palestinian woman near the settlement of Nahliel in the Binyamin area of the West Bank on Wednesday afternoon.
The soldier was taken to Tel HaShomer Medical Center in Ramat Gan in light-to-moderate condition.
The IDF spokesman said the Palestinian arrived at a military post and stabbed the soldier in the back. She was apprehended and taken for questioning.
She was identified as Rawan Abu Matar, 22 years olf from the village of Beitillu, northwest of Ramallah. She is not a member of any particular group and is not known to security forces.
In her interrogation, Abu Matan said her intention was to murder a soldier.