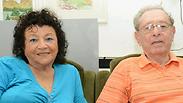 The Ministerial Committee for Legislation recently rejected deliberation on amending the law of Holocaust survivor's benefits. The law aimed to allow compensation for about 2,000 elderly Israelis sent to forced labor in Romania during World War II. The coalition rejected the private bill proposed on the matter on Wednesday by a vote of 53 against and 49 for.

"We want delayed justice before we die," 80-year-old Holocaust survivor Cecilia Golder said in desperation. Unlike other Holocaust survivors, Cecilia has never received a regular pension.

Cecilia and her husband Dodel, 86, were born in Romania, and immigrated to Israel in the early '90s. During World War II they were persecuted by the pro-Nazi regime, were forced into hiding, and Dodel was sent to forced labor laying railway tracks. "We lost family and friends, we lived without food, and many times without seeing the light of day," Cecilia said. The couple have no pension, and survive on old-age stipends and supplementary income, amounting to about NIS 5,000. "We are not miserable," Cecilia stressed, "But we do not understand why the state treats us like this, we were also there."

The legislative amendment proposed by Yesh Atid MKs Yair Lapid, Meir Cohen and Mickey Levy, refers to a small group of mostly Romanian Jews, who were persecuted and sent to forced labor camps during the war.

The group arrived in Israel after 1953, and due to the continual failure of remuneration laws and government policies, were never considered eligible to receive benefits from the state. In contrast to other Holocaust survivors or persecuted persons, who made aliyah before 1953. Many people, who came from similar backgrounds to the Golder couple, were banned from making aliyah in those years.

The cost of the amendment is estimated at NIS 50 to 60 million and if eventually passed, members of the group will be eligible to collect a monthly stipend amounting to NIS 2000-8000. The final sum will depend on their medical and socio-economic condition.

Earlier this week, the ministerial committee postponed discussion of the amendment by three weeks, at the request of Finance Minister Moshe Kahlon (Kulanu). However, due to the upcoming Knesset recess, the amendment has effectively been postponed for several months. In response, Yesh Atid submitted the bill privately for a preliminary reading in the Knesset.

Lapid, told the plenary session that, "Postponing the discussion of this law is an immoral act. There is no room for politics here; there is no place for coalition and opposition here. These are survivors who are dying every day. If you reject this law, you are sentencing some of them to death in poverty."

"Ask yourself if you are morally able to raise your hand and vote against this proposal. There are conscientious people whom I highly value sitting here, my friend Eli Alaluf (Kulanu), Eli Ben-Dahan (Bayit Yehudi), people who bear great concern about distressed Jews. You would vote against a law that would allow Holocaust survivors to get what they deserve," he added.

Sources in the government said that the former Finance Minister could have promoted the legislative amendment with the reform he passed, which dealt with survivors. According to sources, "Despite repeated requests, Lapid chose not to provide justice to this group of Holocaust survivors, of which they were deprived for years."

"The National Plan for Aiding Survivors of the Holocaust," initiated by Lapid, was launched a year ago at a cost of about NIS one billion. The proposed legislative amendment concerning forced laborers was not included within the plan, but sources close to Lapid say that they had "promoted the bills inclusion in the 2015 budget."

The sources added that, "Lapid's reforms dealt with a portion of the population which has been thoroughly studied and recognized as Holocaust survivors by the relevant government agencies. Lapid's reforms improved the survivor's quality of life, however the same logic cannot be applied to forced laborers, as new administrative work must be conducted, and has been conducted while Lapid was Finance Minister."