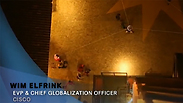 First, smart phones exploded on the Israeli market. Now, smart watches are also sure to have a significant presence. But Israel has bigger plans that what goes on your wrist - the "smart city" has been born, and the high-tech nation is jumping on board for the ride.

Cisco Israel is leading the drive to bring Israel's cities into the technology age, as show in a presentation in Tel Aviv on Wednesday where the latest advancements were on display.

"Smart cities provide benefits to residents of the city and improve the municipality's connection with residents as well as infrastructure, and make the area more pleasant to live in," said Roei Hermon, a manager in the field of smart cities at Cisco Israel. "In a smart city, you can understand congestion in public places, how Tel Aviv port will look when it's full, etc."

As presented by Cisco, smart cities reach their citizens with technologically advanced kiosks complete with touch screens and straight-forward instructions that can help you find free parking or the nearest available parking garage and even movie theaters. Cities may also benefit economically from some of the new technologies including smart street lights that shine only when needed and a more efficient irrigation of public parks and fountains.

John Baekelmans, Cisco's global technology vice president who lives in London said that each city is different and that the technologies will be able to meet unique needs.

"In Barcelona, for example, you need to understand first and foremost what the biggest pain points are and from the moment you start addressing one of these pain points, you start making your city smarter and smarter."

City officials said that many options were being considered for improving the living experience in Israel's most technologically advanced city, Tel Aviv. While currently focused on decreasing traffic in the city, Tel Aviv could end up being a fertile testing ground for giant smart kiosks to help tourists enhance their experience.