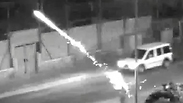 Still from security footage
Stones, Molotov cocktails, and fireworks were thrown Thursday night at Jewish homes in the East Jerusalem neighborhood of Ma'ale HaZeitim – and residents claim that police failed to properly deal with the violence.
According to witnesses, law enforcement took too long to arrive, refrained from intervening, and even got into arguments with residents.
One resident was lightly wounded, and numerous fires broke out.
Security footage of the incident
The incident occurred at about 12:30 AM, when some 20 Palestinians arrived from Ras al-Amud. Footage from a security camera installed by the Anti Terror TV organization shows the mass attack, in which residents can be heard wondering why the police had not arrived.
Josha Wander, a member of the neighborhood security committee, said police arrived after ten minutes, followed by reinforcements after 15-20 minutes, and that they then refrained from responding. "Instead of responding and protecting, the police started arguing with us and asking us why we were outside and why we were getting involved," he said.
Wander added that the attacks slowly dissipated and stopped after 1 AM without any interference by law enforcement. He said the wounded man received medical treatment from the neighborhood medical team and required stitches.
A resident who was in her home during the incident said a Molotov cocktail was thrown inside her house and started a fire.
While attacks on Jewish homes in the neighborhood are commonplace, an incident of this magnitude has not occurred for a long time. The neighborhood security committee warned of potential escalation.
"We have seen an increase in hostile terrorist activity recently," said one member. "Violence towards us is rising."