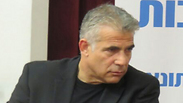 Yesh Atid Chairman Yair Lapid slammed government policy Saturday, saying it was Israel's failed approach that allowed for the signing of a nuclear deal between Iran and Western powers.

The former finance minister said that he would issue a formal demand on Sunday for the creation of a commission of inquiry to produce a public report on, "Netanyahu's failed foreign policy.

"This doesn't just need to be an internal commission in the Foreign and Defense Ministries, but a commission that will also publish a public report (to explain) how we arrived in this situation."

Though criticizing Prime Minister Benjamin Netanyahu's approach to stopping the deal with Iran, Lapid voiced agreement with the Likud boss' opinion of the treaty.

"They made an agreement in which every mention of oversight is absurd and the State of Israel wasn't there (at the talks) because no one is prepared to talk with Netanyahu."

Netanyahu took a hard line against a deal with Iran before discussions ever began. Despite his efforts, the deal was signed last week.