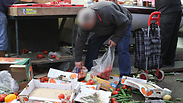 Man sifting through discarded food at the market
Photo: Ido Erez
Angel Musicant, 72, sat in darkness in a crumbling, meager two-room apartment where he lives in Rehovot, and didn't turn on the light. "I just want to get it (life) over with," he told Ynet. Musicant is not the only member of his age group who is in a dire situation.
Musicant lives on NIS 1,570 (around $411) a month - what is left after he has to spend NIS 1,000 of his NIS 2,570 (around $673) insurance benefits in order to help cover a NIS 8,000 debt. He took out the loan to help his sons, from whom he is current estranged. "I live in constant fear because of my debts," he said. "I have no one left in the world and no one looks at me."
In addition to the loan, Musicant also owes money to the electric company, the water corporation, his landlord, and his local grocery store. "I'm afraid of every knock on my door and of them coming to evict me," said Musicant. "Tell me how you can live off this amount. My life is an ongoing nightmare. I don't leave the house and don't buy anything. I haven't changed pants in months."
The electricity in Musicant's apartment will soon be cut off, and he avoids turning on the lights.
As the government debates its biannual budgets, a National Insurance Institute report from November 2014 noted that 22.1 percent of senior citizens in Israel are poor – one of the highest rates in the Western world. A survey conducted this month by the Knesset Research and Information Center showed that Israel places 30th out of 35 OECD countries in terms of its investment in pensioners.
The study was ordered by MK Nachman Shai of the Zionist Union, who heads the Knesset Pensioners' Lobby, and takes into consideration all social benefits for pensioners, including public pensions, stipends, housing assistance, and benefits such as rehabilitation services.
A year has passed since the Committee to Fight Poverty submitted a report including a lengthy section on the need to raise income support for around 200,000 poor senior citizens, at a cost of NIS 600 million a year, in order to boost these citizens above the poverty line. The recommendations were meant to form the government's flagship anti-poverty program, and their total cost was estimated at NIS 7.8 billion a year.
The committee was formed in 2013 by then-welfare minister Meir Cohen with the blessings of Prime Minister Benjamin Netanyahu and then-finance minister Yair Lapid, but the recommendations were not adopted by the previous government.
"I'm concerned that the poor pensioners will be forgotten in the emergent budget for next year and that they will be left alone to deal with the scarcity and hardship," said Zion Gabai, a member of the government's anti-poverty committee and the CEO of the International Fellowship of Christians and Jews.
"Removing the pensioners in Israel from the cycle of poverty is one of the issues over which there is no disagreement, whether moral or practical. The only way to allow senior citizens to live with dignity is by bringing them to a minimum income threshold that meets their basic needs."
To help Angel Musicant, readers can reach the International Fellowship of Christians and Jews at (+972)2-6461400 or tal.goldman@ifcj.org.il