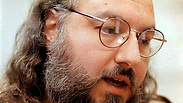 The US Department of Justice will allow for the release of Jonathan Pollard, accused of spying for Israel, after fulfilling his 30-year sentence, reported the Jewish-American publication "Algemeiner."

A similar report also appeared in the Haredi site from New Jersey, "Lakewood Scope," citing a source in the US Senate.

Speculation suggests that the Department of Justice's neutral stance on Pollard's release may be part of American concessions to Israel intended to soothe tensions after the US and other world powers signed a nuclear deal with Iran last week. US and Israeli officials refused to respond to the reports on Pollard.

Pollard was arrested for espionage against the US in 1985, a crime that automatically earned him a sentence of 30 years. However, legislators passed a law a few years ago increasing the sentence for espionage to 45 years, though it was unclear if this would also apply to those like Pollard who were imprisoned under the old law.

The parole board of the prison holding Pollard met several days ago to discuss the issue and a final decision is expected at the end of July. If the Department of Justice doesn't attempt to impose the new 45-year law on Pollard, he is likely to be released. According to the law, the Department of Justice can only appeal Pollards release with evidence that he poses a threat to the public or that he misbehaved in prison.

The news reports denied any connection to US policy in the wake of the Iran deal, but Pollard featured often as a concession card to Israel during peace talks with the Palestinians.

Pollard will reach the age of 61 in August and his health has been in decline over the past few years. During the last two years, Pollard has repeatedly been admitted to hospital and underwent multiple operations.