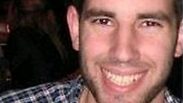 Israeli security forces have arrested the terror cell responsible for the murder of Malachi Rosenfeld last month near Shvut Rachel in the West Bank, it was cleared for publication on Sunday.

This terror cell was also behind a shooting two days earlier at a Magen David Adom ambulance and other Israeli vehicles near Beitin, which ended without casualties.

The cell members admitted to have committed these attacks and attempting to commit another attack on June 6, 2015.

IDF troops arresting suspects (צילום: דובר צה"ל)

The brains behind the terror cell, Ahmad Najar, a Hamas operative, was not among the suspects arrested. He was imprisoned in Israel several times in the past, most recently from December 2003 until October 2011 over his involvement in a shooting attack that claimed the lives of six Israelis. After his release as part of the Shalit deal and expulsion to Gaza, Najar moved to Jordan, where he has been working to organize and fund terror attacks.

His brother, Amjad Najar, also a Hamas operative, was arrested on July 7. In his interrogation he admitted to facilitating the transfer of instructions, weapons and funding from his brother in Jordan to the West Bank for the attack. He was previously arrested in the 1990s for involvement in terror activities.

Abdallah Ischak was also arrested on July 7. In his interrogation, he admitted to being directly involved in the two attacks, saying he drove the car used by the cell and participated in other armed activity. He was previously in Israeli jail in 2010-2011 for arms trade and terror activities. In 2006, he was involved in the planning of a terror attack.

Fa'ez Hamed, a Hamas commander, was arrested on July 9. In his interrogation, he admitted to planning the attacks and being involved in another attempted attack. He was arrested several times in the past for his activity within Hamas.

Jamal Younes, Ahmad Najar's father-in-law, was arrested on July 10. In his interrogation, he admitted to scrapping the car used in the attack, mediating on an arms deal for the attack, and to meeting Ahmad Najar in Jordan.

Some of the cell members were arrested by the Palestinian security forces, among them Mu'ad Hamed, who led the terror cell and committed the shooting in both attacks and Ahmad Shibrawi, who helped plan the attacks and provided the weapons used. Both Hamed and Shibrawi, Hamas operatives, were arrested several times in the past for his involvement in planning terror attacks.

The Palestinian Authority has recently conducted the largest wave of arrests in years against Hamas operatives in the West Bank. Arrests were made all across the West Bank and included 170 Hamas operatives. Two weeks ago, a Palestinian security official told Ynet that there was a direct link between the series of recent shooting attacks in the West Bank and the wave of arrests.