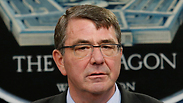 Ash Carter (Photo:Reuters)
In the face of Israeli outrage over the Iran nuclear accord, the US Secretary of Defense was scheduled to visit Israel on Sunday to reinforce arguably the strongest part of the US-Israeli relationship: Military cooperation.

Israel has expressed concern that US sales of advanced weaponry to Gulf Arab states has the potential of offsetting, to some degree, Israel's qualitative military edge. But officials say Washington has no plans to offer new weaponry as compensation for the Iran deal.

Aides said in advance of the trip that although Carter strongly supports the Iran deal, he had no intention of trying to reverse Israeli opposition to it. Prime Minister Benjamin Netanyahu has denounced the deal as a mistake of historic proportion.

Carter is scheduled to meet with Netanyahu and Defense Minister Moshe Ya'alon, as well as with IDF generals, and visit troops in northern Israel. He also planned to stop in Jordan and Saudi Arabia, US allies, whose leaders also are worried about implications of the nuclear deal.

On the day the Iran accord was announced, Carter issued a statement saying the US is "prepared and postured" to help Israel improve its security, although he offered no specifics. He added that the US would "use the military option if necessary" to protect its allies, to "check Iranian malign influence" and to ensure freedom of navigation in the Gulf.

The US-Israel defense relationship has deepened in recent years, even as tensions between the two over how to contain Iran's nuclear program has grown.

The US has invested hundreds of millions in the Iron Dome air defense system, which is designed to shoot down short-range rockets, mortars and artillery shells fired from southern Lebanon and the Gaza Strip.

Just two months ago Washington announced a $1.9 billion arms sale to Israel for a range of missiles and bombs, including bunker busters that can penetrate reinforced defenses to reach underground targets. Not included is the Pentagon's biggest bunker buster bomb.

Israeli officials insist they are not prepared to discuss American "compensation" for the Iran deal, saying that would imply acceptance of the accord.

"Everybody talks about compensating Israel," Netanyahu said Sunday. "I guess the question you have to ask yourself is, if this deal is supposed to make Israel and our Arab neighbors safer, why should we be compensated with anything," he told ABC's "This Week."

"How can you compensate a country, my country, against a terrorist regime that is sworn to our destruction and is going to get a path to nuclear bombs and billions of dollars to boot for its terror activities," he said.

The US and Israel have been holding talks on renewing a 10-year defense pact set to expire in 2018. Under the current deal, Israel receives about $3 billion in military aid from the US each year. That number is likely to increase when the deal is renewed, and possibly before then.

Obama has indicated he is open to new ways of improving Israeli security, but he has played down the idea that ending economic penalties on Iran will drastically alter the balance of power in the region.

"Do we think that with the sanctions coming down, that Iran will have some additional resources for its military and for some of the activities in the region that are a threat to us and a threat to our allies? I think that is likelihood," Obama told a White House news conference on Wednesday. "Do I think it's a game-changer for them? No."

Obama's principal military adviser, Gen. Martin Dempsey, met with Netanyahu and Israeli military officials just last month. The Joint Chiefs of Staff chairman told reporters with him in Israel that once an Iran nuclear deal was struck, Israeli and US officials needed to "quickly and comprehensively" discuss the way ahead.

"It will be incumbent on both of us to make sure that we provide the kind of reassurances that the state of Israel has always counted on us to provide. But we are going to have to do the same thing with the Gulf allies," Dempsey said, alluding to deep concerns in Saudi Arabia and other Gulf states that removing sanctions on Iran would make it a greater regional danger.

Dempsey said he understands why Israelis believe a nuclear deal will give Iran room to accelerate its funding of surrogate Shiite groups like Hezbollah.

"I share their concern," Dempsey said.