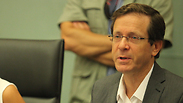 Isaac Herzog
Photo: Knesset spokesperson
Opposition leader and head of the Zionist Union, Isaac Herzog, rejected out of hand on Sunday reports that his party was in talks to join Prime Minister Benjamin Netanyahu's government.

"This government needs to be replaced today. Not get a lifeline," he declared.

Speaking at the Labor party conference in Jaffa, Herzog said that "Benjamin Netanyahu must be replaced. He needs to be sent home. I'm saying no to crawling into Netanyahu's extremist right government."

The Zionist Union leader was trying to calm down party members after a series of reports in the media that he was interested in joining the prime minister in a unity government.

He detailed what he viewed as Netanyahu's failures: "This failing government is responsible for the high cost of living, the high cost of housing, the failure in reaching a gas plan that's fair for the citizen of Israel... This is a government that led to an incomprehensible rift with our biggest ally in the world - the United States - and to the freezing of any diplomatic process, to hurting the media, the legal system and the very fabric of democracy. This government needs to be replaced today, tomorrow, as soon as possible."

Herzog went on to say that he was against "bolstering the Iranian kingdom of terror" and "the Netanyahu government that failed to prevent this bad deal."

On Sunday morning, Likud Minister Yariv Levin told Ynet that there were ongoing talks "all the time" over a possible unity government but he "wouldn't define it as a negotiation."

"We're also not hiding the fact we want to extend the government," Levin added.