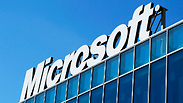 מיקרוסופט שלט על בניין מטה החברה ב בוקרשט
Photo: Reuters
Software giant Microsoft has bought Israeli cloud security company Adallom for $320 million, making it the largest acquisition made by the company in the country, according to Ynet's sister publication Calcalist.

Until now, Adallom has raised 50 million dollars from venture capital firms Sequoia Capital and Index Ventures, Zohar Zisapel, EMC Corporation and HP. According to estimates, Adallom is expected to serve as a basis for the establishment of Microsoft's cyber center in Israel.

This is the second cyber company Microsoft has bought in the last year: at the end of 2014 it acquired the cyber security firm Aorato for 200 million dollars and has since bought N-trig for several tens of millions of dollars and Equivio for 50 million dollars.

Adallom was founded in 2012 by three entrepreneurs, Assaf Rappaport, the CEO and graduate of the IDF's prestigious Talpiot program, Israeli Intelligence Corps' Unit 8200 and the special technical unit of the Intelligence Corps; Ami Luttwak, Chief Technology Officer, graduate of the Talpiot program and a senior software architect at Phonaris; and Roy Reznik, vice president of R&D, graduate of the Israeli Security Forces. The company has 80 employees, 50 of whom work at the development center in Tel Aviv's Ramat HaHayal, and almost all are data security professionals and graduates of technological intelligence units.

Adallom was established as part of the company trend to utilize complete cloud security in the Software as a service (SaaS) model and offers companies technology to protect data located on remote servers. It can, for example, secure Salesforce.com, Microsoft and Google Apps' use of cloud services. These services protect their servers against intrusion, but in many cases the responsibility for information security of the customer's account is imposed on the customer, in this case the company Adallom services.

Adallom solves the security problem of SaaS security by providing a layer that envelopes the organizational information on the cloud so that access to it passes via Adallom's command and control mechanism located in the US and Asia.

It can detect suspicious activity such as a one-time download of a large quantity of documents by an employee or lack of data overlap, (for example, a user in New York trying to connect to a particular network in Ukraine). Then it can perform a reconstruction of the system penetration and provide a layer of prevention against suspected users.