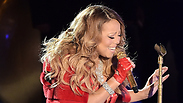 Coming soon...
Photo: Getty Images
Mariah Carey, one of the most famous pop singers in the world, announced Monday that she will perform in Rishon LeZion's Live Park on August 18.
The singer, who has sold more than 200 million records worldwide, is celebrated for her rare five-octave vocal range, and is currently performing a residency in Las Vegas.
The announcement came less than a month after Carey's private visit to Israel, on which she was accompanied by her partner, Australian billionaire James Packer, and her two young twins.
Carey released her first album in 1990, winning two Grammy Awards for her first release. A quarter of a century later, her music still sells, and she has broken numerous records on the way.
She is tied with Elvis Presley for the solo artist with the most US number one singles.
This will be Carey's first public performance in Israel.