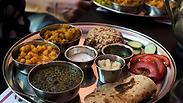 Tel Aviv beat out Berlin, New York and Chennai, India becoming US food website "The Daily Meal's" top destination for vegan travelers. The website praised the vegan staple falafel, found on many street corners, and cited Tel Aviv's Nanuchka restaurant as having "a fresh take on meat-heavy Eastern European food".

Nana Shrier, owner of the stylish Georgian restaurant Nanuchka in downtown Tel Aviv, shocked Israel's culinary world when she removed all animal-based products from the menu. A year later business is thriving, defying those who predicted its demise.

Animal Welfare

Op-ed: Hard part of being a vegan is not the food, but the sense of detachment from the world.

Nanuchka is part of a growing trend that has transformed Israel's financial center into a haven for meatless cuisine. Some 400 food establishments are certified "vegan friendly", including Domino's Pizza, the first in the global chain to sell vegan pizza topped with non-dairy cheese.

"There is a good crowd for it, a very loyal one," vice president of marketing Ido Fridman said, noting Domino's Israel sold over half a million vegan pizzas in the past year.

Veganism has gained popularity along with the surge in nutrition awareness worldwide. But the rapid growth in Israel, which goes beyond initiatives like "Meatless Mondays", could signal more is in store elsewhere.

Like vegetarians, vegans don't eat meat, but they also eschew animal-based products including eggs, dairy and honey.

Even the Israeli army has started offering vegan meals on its bases and supplies vegan soldiers with leather-less boots and wool-free berets.

A study prepared for the Globes newspaper and Channel Two found five percent of Israelis identify as vegan and 8 percent as vegetarian while 13 percent are weighing going vegan or vegetarian. In 2010 just 2.6 percent were vegetarian or vegan.

This compares with an estimated 2 percent of the U.S. and UK populations being vegan and just 1 percent in German.

Georgian-born Shrier was strongly advised not to convert her 14-year-old restaurant to vegan.

"My workers, accountant, lawyer, financial adviser, friends, even my psychologist said such a successful restaurant needs to be left alone," she said in an interview in Nanuchka's shady outdoor patio. "But I understood I have the privilege to influence through the restaurant."

Shrier said turnover is up, with rave dishes including a Georgian dough stuffed with mushrooms, and spinach and nuts hinkali - stuffed dumplings served with soy yogurt.

But the well-stocked, popular bar saw a drop in customers, which Shrier attributed to a "hedonistic crowd that can't understand how they can do without meat".
Animal rights
Omri Paz, head of the non-profit group Vegan Friendly, has been working with Israeli cafes and restaurants to offer vegan dishes alongside their usual fare and estimates about 700 outlets are certified as vegan friendly.

He attributed the recent rise in veganism in part to a lecture on YouTube by American animal rights activist Gary Yourofsky that has about 1.5 million views in Israel.

"It helps that Israel is a small country where things quickly go viral," he said.

Israeli television has aired several investigations into animal abuse in the meat and dairy industry. And, Israeli animal rights activists are very vocal - just last week they chained themselves to the gate of a meat processing plant.

One of those activists was Tal Gilboa, winner of last year's popular "Big Brother" reality show, whose vegan agenda helped convert thousands, according to Paz.