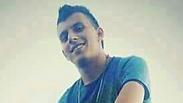 A Palestinian from Burkin near Jenin was killed overnight Tuesday in clashes that broke out when Israeli troops entered the village to make an arrest.

Muhammad Ahmad Alawneh, 21, was shot in his chest when he picked up a stone to throw on security forces. He was rushed to the hospital in Jenin for treatment and later succumbed to his wounds.

Security officials said that during an arrest of a wanted Palestinian, violent rioting broke out and a Border Police force fired 0.22 inch caliber bullets (Ruger rifle bullets) at the main instigators.

During the raid on the village, security forces arrested Muhammad Ali Atiq, 22, from Burkin. In another raid in the nearby Jenin, security forces arrested Yasser Ghaleb Abu Jaafar, also 22.