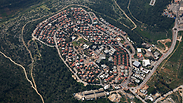 Karnei Shomron
Photo: Ilan Arad, lowshot.com
The subcommittee for settlements within the Israeli Civil Administration was expected to approve on Wednesday the construction of hundreds of housing units in the West Bank, ending a year-long unofficial freeze.

The subcommittee's hearing will also deal with the two Dreinoff buildings in Beit El, after a Supreme Court ruling to demolish them by the end of the month led to wide-scale protest from settlers.

Over the past week, settlers upped their rhetoric against Prime Minister Benjamin Netanyahu and Defense Minister Moshe Ya'alon, who they say gave the order to freeze construction in the West Bank.

They sent a letter to Likud MKs with the headline "Netanyahu is suffocating the settlements and the Likud remains silent?"

The settlers asserted that a decision in their favor at the subcommittee meeting will be an attempt by the defense minister to fix the strained relationship between the settlers and the prime minister.

The freeze in settlement construction came to the fore last week when, according to settler leaders, Netanyahu told them: "We cannot develop the settlements further, but rather need to preserve what we have."

The Likud party denied the comment attributed to Netanyahu, while the head of the Har Hebron regional council, Yochai Damari, said that "the ramifications of deciding to freeze settlement planning and building in Samaria will hurt many communities."

The subcommittee is expected to approve, along with the Dreinoff buildings, some 296 homes to be built on land near Beit El currently housing a Border Police base that is to be vacated as part of the evacuation agreement of several buildings in the Ulpana neighborhood in 2012.

The subcommittee will also discuss the construction of 112 housing units in Ma'aleh Adumim, 381 in Givat Ze'ev and 27 housing units in the settlement Beit Aryeh in the southwestern Samaria.

The subcommittee will also receive requests to approve dozens of housing units that have already been built in Psagot, and 22 units in Giv'on HaHadasha.

It will also receive plans for the development of the Karnei Shomron industrial area, the expansion of the "Makor Haim" yeshiva in Neve Daniel (where Gil-Ad Shaer and Naftali Frenkel studied), and converting land from an open private area to an area where public institutions and other structures can be built.

Left-wing NGO Peace Now said in response, "It is a black day for the two-state vision. The settlers' threats have proven themselves once again and the government is once again accelerating construction across the territories and in isolated settlements. "