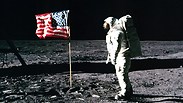 The second man to ever walk on the moon, astronaut Buzz Aldrin, 85, is expected to visit Israel in October for the first time to attend the International Astronautical Congress in Jerusalem.

Aldrin was part of the Apollo 11 space shuttle team and along with Neil Armstrong made history in 1969 when the Americans landed the first manned lunar mission.

"Magnificent desolation," Aldrin said on July 20, 46 years ago, after following Armstrong onto the moon's surface.

Armstrong, Aldrin's more well-known colleague, has already visited Israel several years ago.

Aldrin is considered a colorful figure in the world of space exploration. He got married and then divorced three times, and over the years played himself in many TV shows and movies. He was on "The Big Bang Theory," "30 Rock" and "Dancing With the Stars," as well as "The Simpsons" and "Futurama." Toy Story's Buzz Lightyear character is named after Aldrin.

Since retiring from NASA and the US Air Force, Aldrin released six books on space and registered several patents. He has been working to promote space research and space studies all over the world, and was part of the planning of a future manned mission to Mars.

Over the past year, Aldrin also released a book about Mars. He also founded a non-profit foundation, ShareSpace, which addresses science literacy by igniting children's passion for science, technology, engineering, arts and math.

Over 3,000 scientists - including heads of space agencies, astronauts and space industry figures from around the world - are expected to attend the International Astronautical Congress hosted by Israel's Ministry of Science, Technology and Space.

The congress, which will take place at the International Convention Center and is expected to draw a lot of tourists, includes some 2,000 lectures by representatives from 70 countries, as well as a space exhibition including objects from all over the world.