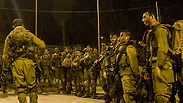 IDF troops in the West Bank (Archive)
Photo: IDF Spokesman
Falah Abu Maria, a 53-year-old Palestinian, was killed by IDF fire during an arrest operation in Beit Ummar, north of Hebron in the West Bank on Wednesday night.
A Kfir Brigade force entered the home of one of the wanted individuals and encountered resistance, including an attempt to choke one of the soldiers.
The troops were pelted with rocks when they left the residence, requiring them to provide cover fire. Abu Maria was struck and died of his wounds.
Palestinians described the incident differently, saying that IDF troops stormed the house and opened fire at one of Abu Maria's children. Two bullets struck him in the pelvis, they claimed. Abu Maria reportedly attempted to help his son and was struck twice in the chest. The son underwent surgery and his condition is stable. Another relative was lightly wounded by bullet fragments.
On Wednesday night, IDF forces arrested six suspects in the West Bank. Four were charged with committing terrorism and rioting.
The incident occurred less than 24 hours after a 21-year-old Palestinian was killed on Wednesday near Jenin during riots that developed after the arrest of a Palestinian.