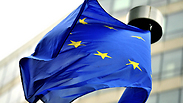 The European Union
Photo: AFP
The European Union is not planning to impose sanctions on Israeli banks, a senior EU official said Wednesday, hours after an EU think tank released a report recommending such a course of action.
"We have no intention of imposing restrictions on Israeli banks that do business in the settlements. This entire issue is complete nonsense. This issue has never been considered," the diplomat said.
The European Union agreed this week to push ahead with labeling Israeli goods made in settlements in the West Bank, a move that has alarmed the Israeli government.
Then, in a paper to be published on Wednesday, the European Council on Foreign Relations, whose proposals frequently inform EU policymaking, argued that the EU is in breach of its own laws and must move much more firmly to distinguish its dealings with Israel from Israel's activities in the West Bank and East Jerusalem, which it has captured in 1967 Six-Day War.
The think tank recommended imposing restrictions on Israeli banking, loans and mortgages, qualifications earned in settlement institutions and the tax-exempt status of European charities that deal with Israeli settlements.
The release of the report caused panic in the stock market and led to a drop in Israeli banks' stocks.
The Foreign Ministry and EU officials rushed to issue calming statements by stressing that the report was merely a recommendation and the chances it would be adopted are very small.
"This is an independent research institute that has no connections to the European Union and has no more influence than any other research institute," the European diplomat said. "Anyone can publish reports. It has no basis in reality. There are no plans for further legislation on this issue except for the plans to label settlement products which are moving forward, but have yet to be finalized."