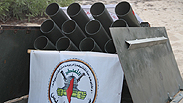 The IDF is in the process of installing a new radar system that would significantly increase the warning time given to Israelis to take cover when a mortar shell is fired from the Gaza Strip, a senior Southern Command official said Thursday.

One year after Operation Protective Edge, the Southern Command is working to eliminate points of weakness discovered during the war last summer. One such point of weakness was the short warning time given to residents of communities adjacent to the border fence to run for cover - 3-5 seconds.

Over the past few years, the IDF and defense companies have been working to find a technical solution to increase the warning time to the allowed minimum - 15 seconds.

The army source said there has been a significant breakthrough in the development of such a solution, and that the new system will likely be installed along the entire length of the Gaza border in the near future.

However, the official stressed that the new system was still in its experimental stages and has yet to prove itself in real-time.

"At the moment, the system has been installed in several different locations on the Gaza border, but it's still in experimental stages and we believed we can solve the issue in the coming months. The system has been very much improved and we've made significant progress, we're not in the same situation we were before Protective Edge."

An official from the Home Front Command said that over the past year, the command has formulated a plan for an organized evacuation of the population during times of emergency. If this should become necessary, civilians will be evacuated under supervision and protection of the army.

After five soldiers were killed in a gathering area for troops outside the Gaza Strip from mortar fire, the army also decided to put mobile warning systems to alert the exposed soldiers of the incoming danger.