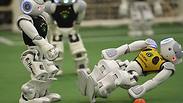 Robots battle it out in Iran (Photo:Reuters)
A team of American humanoid robots defeated foes from Iran on Wednesday in the final of an annual soccer tournament for intelligent sporting machines held in China.

In a tightly fought final, a team designed by the University of Pennsylvania and named THORwIn scored five goals compared to four from Iranian team Baset Adult-Size, organizers said.

The game was the final of the largest "adult" size category in the Robocup, an annual event held this year in the eastern Chinese city of Hefei.

The annual Robocup is seen by some scientists as helping promote the cause of designing machines capable of carrying out more complex tasks.

The robots are not human-controlled and play football in a manner resembling young children: swarming around the ball, kicking haphazardly and often falling over.

Iran has emerged as an unlikely force in the world of robot soccer in recent years, and last year the finals were held in Tehran.

The Robocup saw machines competing in a variety of categories depending on their size.

A total of 175 robot teams from 47 different countries and regions took part in this year's event, according to the China Daily newspaper.