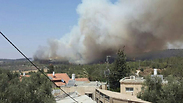 Photo: Beit Shemesh Fire and Rescue
Photo: Beit Shemesh Fire and Rescue
Authorities said Israel's largest fire since the devastating Carmel blaze in 2010 was finally in control Friday evening near Beit Shemesh, after more than 150 firefighters and volunteers spent the day protecting homes in the villages of Tarum, Kfar Uriya and Ta'oz.

Authorities said that strong winds had fueled the forest fire, causing its path to change unpredictably from time to time, and that 13 aircraft aided in the effort to contain the flames. Over 370 acres of land were burned, according to authorities.

Initial investigations suggested that the fire began due to negligence during the burning of yard waste in the village of Ta'oz.

Dozens of homes in the villages of Eshta'ol were nearly evacuated earlier Friday before authorities decided against the order, assessing that they had an efficient amount of time to repel the flames.

Highway 44, which runs just several kilometers parallel to the main highway between Tel Aviv and Jerusalem, was closed in the area of the fire.

It was feared that unpredictable winds would still put the village of Eshta'ol in danger into the evening hours, but dozens of extra firefighters were called up from their homes to offer additional assistance and those already at the scene had arrived from across the country.

Meanwhile, another fire broke out in the Galilee region where dozens of firefighters from Nazareth and two aircraft were eventually able to gain control over the blaze.